Is The Essential Phone with Android Pie Worth Buying in 2018?
(ThyBlackMan.com) The Essential Phone is Android Co-founder Andy Rubin's first phone which is developed by his own company Essential Products. It is one of the first mobile phones to receive Android Pie on the first day of release and is also the only leading smartphone that doesn't force you to be a loyal fan of a brand. That means no logo or branding on the phone.
Now when the phone is available for $399 with free accessories worth more than $100, should you buy Essential Phone in 2018? We had the same question and here's how we found the answer.
Are you ready to use a year old processor?
All the latest high-end smartphones, including the Samsung Galaxy Note 9, Galaxy S9+, OnePlus 6, Asus Zenfone 5Z, LG G7 ThinQ and many more run on Snapdragon 845 processor. The Essential Phone is powered by Snapdragon 835 which can be found on Google Pixel 2, Pixel 2 XL, Samsung Galaxy S8, Galaxy S8+ and many other smartphones which were released in 2017 and early 2018.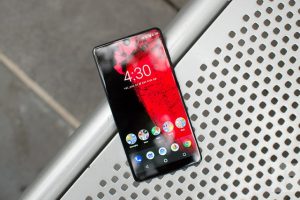 How much time do you spend on your phone? What are the things that you do on your current phone? If you have a device that runs on Snapdragon 835 or if you feel that a phone with this much power can do everything you need then Essential Phone is right for you. Sure, you'll find more power features on the Snapdragon 845 and it can do much more, but so will its successor, the Snapdragon 855. But if you still want to go for the Snapdragon 845, be prepared to spend at least $500.
What's Most Important To You?
The Essential Phone received Android 9 update the same day Google released the update on its Pixel phones. Neither the Samsung Galaxy S9 nor the Galaxy Note 9 have received the Android Pie. The best thing about Essential Phone is that it is the only phone the company has made so far. It clearly means that the development team is focused on making sure that their device receives software updates faster and gets more attention from the team. Companies like Samsung, Huawei, Xiaomi, and LG release so many phones in a year that most of their phones don't receive a single update after release.
If you've never used clean Android, you should try using Essential Phone once. When other phones are filling their software with a customized version of Android software, Essential Products brings you a clean software. They have their own dedicated camera app but other than that, the Essential Phone's software is perfect in terms of clutter-free software experience.
If you think that the Essential Phone lacks power in terms of hardware, you should know that this phone is very straightforward. Unlike Google's Pixel 2, that asks you to shell out $100 extra for 128GB storage, the Essential Phone, by default, comes with 128GB storage capacity.
The phone has two magnetic connectors on its back to connect a 360-degree camera. This camera accessory costs $49 but is now available for free with the phone. The overall camera quality of the Essential Phone's rear and the front-facing camera is great. The phone sports a 13MP + 13MP dual camera setup on the back and an 8MP shooter on the front.
All the cameras are capable of recording videos in 4K mode. The 5.71-inch display offers 1312 x 2560 resolution with 19:10 aspect ratio. It has a display notch which is so tiny that it gets ignored. On its back side, there's a fingerprint reader which is made by using the fastest available technology, claims Essential Products.
Bottom line
Essential Products has a small team and their Essential Phone is the only smartphone they have made. Some of the biggest reasons to buy Essential Phone could be its long support cycle, price, build quality, hardware specification, and freebies. What goes against this phone is its ceramic back that picks up fingerprints and lack of headphone jack. Some people have also criticized the magnetic accessory port because there's only one accessory so far.
Staff Writer; Corey Shaw
Have any Tech Tips? News? Hit up our Tech Guru at; CoreyS@ThyBlackMan.com