10 Best Alexa Games You Can Play On Your Amazon Echo Speaker.
(ThyBlackMan.com) The question is "what are the best Alexa games you can play on your smart speaker?" But our list of 10 best Alexa games includes the game skills you can use with kids, friends, and family. Just enable these skills, play these games on your Amazon Echo speaker and have fun.
Would You Rather for Family
Would you rather is a fun game to play alone, with kids or friends. Say "Alexa, Play Would You Rather" and you'll then be able to play the game right on your Amazon Echo speaker. It is one of the best Alexa games with so many questions to answer. The developers continually add new questions so with each update, you'll find something new. The game also offers statistics and can be played as an ice-breaker for dinner parties and gatherings.
Escape the Room
The game puts you in a room and you have to escape as fast as you can. In the room, you can search for items and use the objects to come out of the trap. From a prison to office and car, there are different places you will be trapped in and with each new place, the difficulty level rises. The game can be played alone or with kids and friends.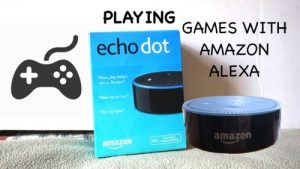 Categories Game
It is one of the best Alexa games for those who love puzzles and word games. You will be given a category and you will have to come up with a word starting from a certain letter. The word must belong to that particular category you are presented with. The more you will play the game, the more categories you'll be able to unlock.
Deal or No Deal Game (unofficial)
There are 20 cases containing an amount ranging from $0.1 to $1,000,000 and you have to choose one of them. The case will remain with you throughout the game and the money as well. After each round, Alexa will call a banker and the banker will offer you a sum of money which can be less or more than your case's worth. So accepting or refusing the banker's offer is up to you. Deal or No Deal is a fun game to play at parties or alone.
True or False?
If you love trivia, this is the best Alexa game skill you can add to your Echo speaker's playlist. You can play True or False with up to 20 people as the questions are endless. To test your knowledge about the world, this is one easy to play and fun game. The developer releases weekly updates, meaning that you will always find new challenging questions every time you play it.
Question of the Day
Add this skill to improve your knowledge about topics ranging from arts to technology and entertainment. The game provides you points for correct answers and you can also check how others respond to those questions. Question of the Day is a good way to start your day with new information about things you are interested in.
Focus Game
Struggling to stay focused? Want your kids to learn meditation or improve concentration power? Focus is one of the best Alexa games you can play on your Echo speaker. The self-help game features different levels and listening challenges to help you stay focused and reach a meditative state.
Guess My Name
This is the game you can play by choosing many categories to guess the name of places, animals, cities, countries and so much more. Alexa will give you clues and you'll have to guess the name. This is a fun game for all and the best thing is you can play the game with Echo users from around the world.
Animal Workout
What's better than keeping your kids away from the screen? Alexa games give them a reason to learn and have fun. Animal Workout is a fun skill you can add to your Echo speaker. The game allows kids to workout as different animals and encourages them to learn more about the world of animals and motivates them to find new information.
Lemonade Stand
It's a complete remake of the original Lemonade Stand game from the ground up. If you want to teach your kids about money, management, business or decision making, this is one of the best Alexa games you can play on your Echo speaker. Set up your lemonade stand, buy ads, sell lemonade cups and make money.
Staff Writer; Corey Shaw
Have any Tech Tips? News? Hit up our Tech Guru at; CoreyS@ThyBlackMan.com