iOS 12 Release: Apple Reveals Most Important Changes Yet.
(ThyBlackMan.com) Apple iOS 12 release will bring 12th major operating system update for iPhones, iPads and the iPod Touch. The successor to iOS 11 will bring many new performance updates and functionalities for these devices. At Apple's annual event WWDC, the company unveiled some features explaining how iOS 12 speeds up things.
We were expecting some performance and security-related features in the iOS 12 update, but Apple is bringing more than what we thought. The company is focusing on performance and there are some big changes, improvements, and enhancements in the operating system's features. Apple iOS 12 release is scheduled for fall 2018, and if you can't wait, you can download iOS 12 beta as well. Apple iOS 12 will be available on all the devices that received iOS 11.
Messages & Memoji
Memoji, Screen Time, Group FaceTime, and UI improvements are some of the new attractions you'll notice in the latest version of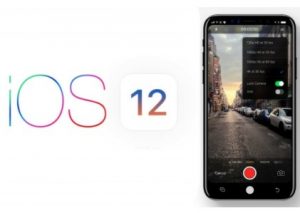 Apple iOS. Memoji is a new type of Animoji with customization options. This option in Messages app lets you create a 3D character of yourself. Apple also introduced some new Animojis including Tiger, Koala, ghost, and tyrannosaurus rex.
FaceTime
One of the most awaited features is finally coming with iOS 12 release. Many iPhone and iPad users wanted support for group chat on FaceTime. Apple has finally improved this app by adding support for up to 32 members chat at once. The best thing is every time when someone speaks, their chat window will get larger to help you see who is speaking. FaceTime now supports Animoji and Memoji.
Measure AR App
Apple introduced a new app called Measure. It is based on the company's ARKit 2 and allows users to measure objects. For example, if you want to measure the length of your study table, just point your device's camera at the table and you will get the measurement.
Apple Photos
The Photos app on iOS 12 will offer search suggestions and it will also suggest you to choose filters and photo effects for your images. Apple has added a "For You" recommendation tool (feature) to offer these suggestions. Sharing photographs has now become easier and more engaging. This year, Google also improved its Photos app with Android P. Improving Apple Photos in similar ways is a clear indication that Apple is catching up to Google.
Notifications
There are several new changes coming to notifications with iOS 12 release. You will now be able to see grouped notifications, so you won't have to scroll down a lot. These notifications will be organized according to the apps and will be stacked into groups. You will be able to manage notifications right from your lock screen even when the notifications are in a group.
Screen Time
Google is doing this with Android P and now Apple is following the same path. Apple is introducing an app to help users maintain a healthy lifestyle by keeping track of their mobile usage. Apple's Screen Time app will not only show you the amount of time you spend on your phone, it will give you in-depth reports. After iOS 12 release, your device will tell you how much time you're spending on apps and how many times you pick up your iOS device. You will also get to see how many notifications you receive on a daily or weekly basis and how much time you spend on certain apps.
CarPlay with Google Maps and Waze
With iOS 12 release, all the iOS devices running CarPlay will be able to use Google Maps and Waze. This is a good news for those iOS users who didn't have the choice to use Google Maps with the bunch of select iOS apps Apple added to the CarPlay system.
Apple iOS 12 release is scheduled for fall and it will likely come with company's new hardware for 2018. Those interested in trying the new iOS 12 features can download the beta version of the operating system.
Staff Writer; Corey Shaw
Have any Tech Tips? News? Hit up our Tech Guru at; CoreyS@ThyBlackMan.com