Madden NFL 19 Finds a New Home on PC, 5 Features to Look Forward To.
(ThyBlackMan.com) Ahead of the E3 2018 event in Las Vegas, EA confirmed Madden NFL 19 PC release.  The publisher also revealed new NFL 19 features and game-changing controls. John Madden Football was the first game from the series on MS-DOS, Commodore 64, and Apple II. The last Madden NFL game on Windows was NFL 08. Since then, EA has been focusing on the game's release on traditional consoles. Here are 5 new features fans should look forward to in Madden NFL 19.
Enhanced Controls
One of the most important features in Madden NFL 19 is the new Real Player Motion. It gives more control to the players and adds more realism to the entire game. Character movements and variety of animations now look more realistic. These changes result in more precise control on the field. Characters are getting unique movement style according to their body size and position. As a result, the on-field movement animations have become more appealing.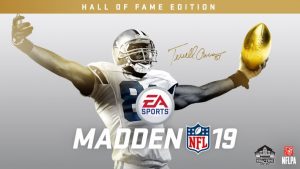 Madden Ultimate Team
The Madden Ultimate Team mode is getting new changes and improvements this year. It is one of the most engaging parts of the Madden NFL games and EA is putting a lot of efforts into it. This game mode is the core attraction in the official eSports league. This year's Madden NFL game promises more NFL legends. The Hall of Fame Edition cover athlete Terrell Owens will also appear in the final game. EA has confirmed a new progression system for the Madden Ultimate Team. The game will bring Solo Challenges, Solo Battles mode, and new rewards. An improved leaderboard system is also on the cards.
Squeezing more power out of the Frostbite engine
EA says you should expect broadcast-quality graphics from the Madden NFL 19 gameplay. This huge change in graphics quality comes from the company's own Frostbite game engine. Frostbite was first used in the series for last year's Madden NFL 18.
EA has released some screenshots that show off stunning graphics quality. Fans should wait to see some more gameplay footage to set their expectations. Cutscenes and animations are usually different from the final product. If the company successfully delivers on its promises, the game will look amazing on the Xbox One X and PS4 Pro.
Player Signature
Game developer and publisher Electronic Arts has made some major improvements in player signatures, particularly in QB Pre-Play signatures. To add more realism to the game, each quarterback will get unique behavior and mannerism. More attention is being paid to small details because EA wants to make sure that what people see in the real game is what they get on their consoles and PC.
All the supported QBs will have their unique signature animation. Some of the QBs will feature all these improvements from the first day of release. Some QBs will have to wait for the future updates to get these features.
Momentum Tackle system
EA has developed a new momentum tackle system to improve tackling in Madden NFL 19. The new system focuses more on momentum, weight, and speed. The studio has also made some improvements in the game's physics. The improvements will help players choose the right animation, particularly to late joiners. According to EA players won't feel puzzled if they are joining late. They late joiners will remain active and act according to the basic laws of momentum and physics.
EA has completely refreshed Hit Stick animations. The good thing is every Hit Stick will be new. EA will use the new Momentum Tackle system for the best possible visual quality. Madden NFL 19 will be officially available on PS4, Xbox One and PC on August 10, 2018. If you pre-order the Hall of Fame Edition, you will be able to play the game on August 7.
Staff Writer; Corey Shaw
Have any Tech Tips? News? Hit up our Tech Guru at; CoreyS@ThyBlackMan.com