Apple Watch Series 2 vs Samsung Gear S3: Yes, Everything Beyond The Rectangular/Circular Debate, etc.
(ThyBlackMan.com) Now when we know the outcome of the Apple Watch Series 2 vs Samsung Gear S3 battle, it's better you don't expect a discussion about their designs. Everyone has their own taste for design and when it comes to watches, choosing a rectangular or a circular one makes no difference when you know how to choose the most comfortable watch. Performance, functionality and power lie beyond the shape, yes! this is what we are going to check here.
Apple Watch Series 2 vs Samsung Gear S3: Control Over The Machine
Apple Watch Series 2 keeps the Digital Crown alive giving completeness to the watch design we have been seeing since decades, but there's a catch. Apple allows you to do so much more with the Digital Crown. You can use it like the way you use your iPhone's home button. You can rotate it to zoom, scroll and perform tasks depending on the situation.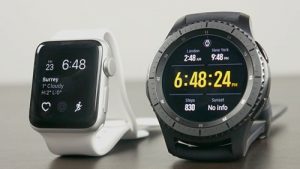 On the other hand, Samsung has reinvented the way we see watches. By giving the Samsung Gear S3 a rotating bezel around the watch face, Samsung has taken things too far. Its rotating bezel is also very comfortable in scrolling and browsing through applications. It is easier to use and comes handy in many different situations.
If you love innovative approach, it is Samsung who has truly delivered something innovative. It doesn't mean that Apple has done something bad by giving Digital Crown. Both the approaches are unique in many senses, but when you'll take the watches in hand or wear them on wrist, you can feel how different they feel.
Apple Watch Series 2 vs Samsung Gear S3: Control Over Fitness
For runners and athletes, both the watches are perfect. Fitness and sports tracking have been a key area of focus from both Apple and Samsung and they have fairly done their part while making these watches. Apple Watch Series 2 wins the battle when it comes to using it underwater, it's a great device for swimmers. On the other hand, Samsung Gear S3 is also water resistant but it can only survive for 30 minutes under 1.5m water.
There's a built-in GPS in both the devices and they also sport heart rate sensor. None of the smartwatches available in the market are 100 percent accurate, so if you are expecting complete accuracy from Series 2 or Gear S3, please don't. Apple loves putting limitations and with the Series 2 also, you are going to feel it when using the Workout and Activity apps. Samsung is improving its S Health, and on many fronts, the brand appears to be giving more control over fitness tracking unless you are a swimmer.
Apple Watch Series 2 vs Samsung Gear S3: Performance
Expecting long battery life? The Samsung Gear S3 is something you can blindly go for. The device has a 380mAh battery making it last for at least three days, but you can definitely make it last longer with moderate use. Like the Apple Watch Series 2, Gear S3 also supports wireless charging. Apple doesn't tell much about all the components of its machines and Series 2 is no exception. The device lasts around 18 to 20 hours.
As far as their operating systems are concerned, Tizen and watchOS are both great and are well optimised. Samsung's Tizen is easier to use and everything including its bezel, UI and design make it more powerful. For watchOS lovers, Apple has not compromised on anything. The major factor to consider here is compatibility and Samsung, of course, supports more devices, when Watch Series 2 is limited to iPhones.
Apple Watch Series 2 vs Samsung Gear S3: Verdict
Depending on the way you use a smartwatch, both have their own unique features and flaws. If you are focused more on sports and fitness tracking, go for Apple, as Samsung Gear S3 may disappoint you in certain situations. If you want longer battery life, a big-sized watch and an innovative way to use a smart watch, go for Samsung.
Staff Writer; Corey Shaw
Have any Tech Tips? News? Hit up our Tech Guru at; CoreyS@ThyBlackMan.com.