Are Sloane Stephens and Madison Keys the next generation of tennis stars following Serena Williams?
(ThyBlackMan.com) By most accounts, Serena Williams is the greatest women's tennis player of all time. She is also one of the greatest athletes of all time regardless of sport and she has earned 23 Grand Slam women's singles titles during the Open-era, which is a record. She is trying to return to dominance following a long layoff after the birth of her first child and has had some challenges upon her return. It is compounded by the fact that Serena Williams is an advanced age for a tennis player at the age of 36 years old.
Regardless, her legacy in sports is secure and the impact that she and her sister Venus have had in the sport of tennis is also an important part of their legacies beyond their terrific skill and accomplishments. Being an elite professional tennis player is incredibly hard and it is significantly harder to do so as a woman of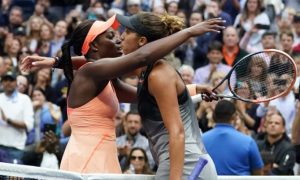 color and black women like the Williams sisters who have had to deal with various issues of racism in a sport that has had issues of race and class. However, there are some notable talented black tennis players who may succeed the Williams sisters as prominent forces for years to come.
The 2018 French Open featured Americans Sloane Stephens and Madison Keys facing each other in the French Open semifinals. They played against each other in another high profile Grand Slam tennis event last year during the 2017 U.S. Open, which featured all four American semifinalists as Stephens and Keys were joined by Venus Williams and CoCo Vandeweghe in competing for the U.S. Open title. Sloane Stephens won her first Grand Slam title by winning the 2017 U.S. Open, defeating Madison Keys in the final, 6–3, 6–0. Stephens showed some grit and resolve during the entire 2017 U.S. Open tournament by becoming the second unseeded woman in the Open era to win the US Open after Kim Clijsters in 2009.
Sloane Stephens has had an interesting route towards becoming a prominent name in women's tennis. Stephens won the 2015 Citi Open for first WTA title. However, she gained significant attention after defeating Serena Williams during the 2013 Australian Open. That win served notice that another American young black female tennis player could emerge as a possible contender to the Williams sisters sustained excellence. The relationship between Sloane Stephens and Serena Williams has been "frosty" at times as both competitors do not seem to been as close as many believed.
Madison Keys has been much more friendly with Serena Williams over the course of her career. Her story is different from Stephens and the Williams sisters as her mother is white and father is black. Back in 2015, a then-19 year old Keys made an interesting statement regarding her self-identity after receiving some praise from Serena Williams. Regarding her how she identifies herself Keys said, "I don't really think of it. I don't really identify myself as white or African-American. I'm just me. I'm Madison."
Those words are a bit similar to a young Tiger Woods who once called himself 'Cablinasian' to self identify with his ethnic makeup. Regardless of her self-identity, it is clear that Keys has a bright future as she has climbed up the WTA rankings into the top 20 of her career that contains three WTA singles titles. She and Sloane Stephens also have a friendly rivalry that could be fun to watch as each enters the primes of their careers.
Staff Writer; Mark Hines