Serena Williams has officially reached G.O.A.T. status.
(ThyBlackMan.com) After winning the 2017 Australian Open last week by defeating her sister Venus, Serena Williams officially has the most Grand Slam women's singles titles during the Open-era with 23. She broke her tie with all-time tennis great Steffi Graf. Serena Williams has accomplished a tremendous amount of her success in her tennis career by blending her ability to strike, use her agility, stamina, strength, and how to correctly exploit the weaknesses of her opponents.
What makes the career of Williams as impressive is the fact that her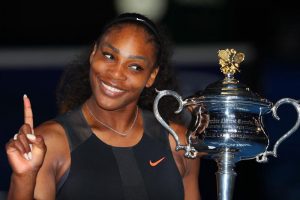 career has combined both longevity and peak excellence. There are tennis players that played well as long as Serena and there are tennis players who have also reached the superstar status that William has reached most of her career but none can combine both like Serena Williams.
Now that Serena Williams has the most Grand Slam singles among women, there is no argument that anyone has ever been a better tennis player among all the great women's tennis players of all time. Before his career took a downturn, Tiger Woods measured his pursuit of being the greatest golfer ever by achieving more major golf tournament wins than the all-time leader Jack Nicklaus. It appears he never will achieve that record but Serena Williams has become a record holder despite several challenges along the way.
It would be hard to believe that two future Hall of Fame tennis players would be raised in the mean streets of Compton, California but Serena and Venus Williams will both be likely honored as Hall of Famers following their playing careers. It is even more incredible that tennis, which has long been a sport that has excluded working class people and especially black people, would have its greatest ever female tennis player as a young woman who grew up in Compton, California but it happened.
Now there is no doubt that Serena Williams is the greatest of all time when it comes to women's tennis and is in the discussion for greatest female athlete of all time.
Staff Writer; Mark Hines