Surface Hub 2 Is worth Considering but It's Missing One Key Feature.
(ThyBlackMan.com) The Microsoft Surface Hub 2 release announcement led many people to believe that it is only for the Fortune 1000 companies. In his blog, Microsoft's Chief Product Officer Panos Panay gave a hint about where Microsoft is focusing with the Hub 2. The Surface Hub successor is certainly not a good fit for many companies, and the main reason is they can't afford it. But it doesn't necessarily mean that this product is a showpiece for office walls or conference room.
Why it is Worth Considering
You might say that we have great tools for video conferencing and collaboration. You may also say that spending thousands of dollars on a 50.5-inch 4K screen is pointless because this much you can do on a $1000 Windows laptop. It's true that you can do pretty much the same thing a giant Surface Hub 2 can do. But does that really make the core idea of making Surface Hub 2 a futile attempt by Microsoft?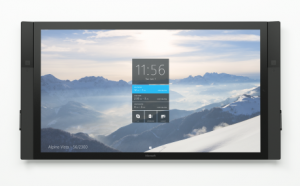 Let's say you are working for a company with offices all over the world. Imagine the travel cost your company is bearing. And just to discuss some plans, they pay thousands of dollars monthly on traveling. Every year, companies pay a lot of money for meetings and training sessions.
There was a time when companies were going crazy behind the idea of Kinect 2 because it reduces the cost. It also reduces the need for expensive video conference setup. Companies with offices located worldwide wouldn't mind paying for a setup like Hub 2. With products like Surface Hub 2 in office, they don't have to deal with huge costs involved in travel, hospitality, and managing manpower.
The Surface Hub 2 is obviously not a home entertainment system. Before you criticize it just because it's out of your budget or you don't feel the need, remember that its predecessor is saving tonnes of money for many Fortune 500 companies.
What's missing?
We didn't see any specific AI features in the Microsoft Hub 2. No voice control, and nothing extraordinary. It's a big screen with multi-touch support. The Surface Hub 2 is great and it's more than just a projector. Artists can use it as a canvas by putting the screen on a rolling stand developed by Steelcase. The stand itself solves many problems and enables Hub 2 users to enjoy the features of the windows 10 on a big screen.
The Surface Hub 2 is designed for the offices of future. To some extent, it's true that in the future, many companies who don't fall in that "Fortune" list would love to use this technology. But where's the dedicated voice-controlled AI? It's missing and it makes the whole experience incomplete.
In May 2018, Microsoft introduced a conical-shaped device that supports voice controlled Cortana. It takes notes of things participants say in meetings, and it eliminates the need for paperwork to some extent. Calling it a perfect device for the offices of future won't be an overstatement. It solves real-world problems businesses are facing every day. But sadly, that's not the case with the Microsoft Surface Hub 2.
In a boardroom, not everyone would like to leave their seat just to press fingers against the screen to access documents or close certain files. If voice control is available, many such issues won't occur.
What's inside the Microsoft Surface Hub 2?
The Hub 2 is almost entirely focused on multi-touch input methods. It features a beautiful 50.5-inch 4K screen that runs Windows 10 and supports 4K cameras for video conferencing and group video chat. Like how smartphones give you the ability to multitask through the split-screen view, the Hub 2 can be divided into 4 screens. It supports both landscape and portrait mode.
Microsoft aims to launch the Surface Hub 2 in 2019. The company has yet to reveal technical details of the device. In the introduction video, we only see individuals and teams performing different tasks on the Surface Hub 2. No auto control features have been showcased as of this writing.
Staff Writer; Corey Shaw
Have any Tech Tips? News? Hit up our Tech Guru at; CoreyS@ThyBlackMan.com