Best Tablets in 2018: Top Picks of the Year So Far.
(ThyBlackMan.com) The best tablets in 2018 come from Apple, Samsung, Amazon, Asus, and Microsoft. They all are powerful tablets and run different software. Tablets have never been that preferred device for computing experience, not even the ones that claim to be a laptop replacement. Tablets have always been standing in the middle and many of us who use tablets regularly are happy with this fact which remains the same in 2018 as well. We have seen some of the biggest tech events in 2018 and many more are coming in the next couple of weeks. If you are planning to buy a tablet, here are 2018's best tablets you can consider buying.
Amazon Fire HD 10
The biggest Fire tablet from Amazon, the Fire HD 10 features a bright 10-inch 1080p full HD display. With the power of a quad-core processor coupled with 2GB of RAM, Amazon Fire HD 10 is the best budget tablet in 2018. Available in two 32GB and 64GB storage options, the tablet offers great battery life – up to 10 hours.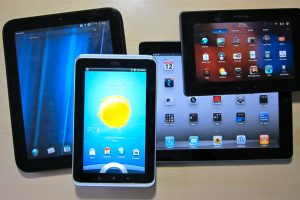 On the Fire HD 10, you can upgrade the storage using a microSD card and it comes with Alexa voice assistant handsfree. The device runs on Fire OS which means it is focused on tasks like reading, music, and movies. Its 1920×1200 display resolution offers great viewing experience.
Apple iPad Pro 10.5
The iPad Pro 10.5-inch is one of the best tablets in 2018 you can buy under $700. It has everything you can expect from a premium Apple tablet. The device supports Apple Pencil, runs on iOS 11 and is designed for professionals. The iPad 10.5-inch includes the A10X Fusion chip and 4GB of RAM (Apple doesn't officially reveal RAM details). Apple's tightly secured operating system and support for professional applications make the iPad Pro the best tablet to buy in 2018.
Apple has also released a new 9.7-inch iPad this year. This model supports Apple Pencil and it is a perfect tablet for those who do not need pro features but a decent tablet to perform regular tasks. There's a 12.9-inch iPad Pro which was launched last year. It accommodates the same hardware power as the 10.5-inch iPad Pro and comes with a bigger display.
Microsoft Surface Pro
Before you quote Microsoft's Panos Panay and say Microsoft thinks Surface Pro is now a laptop, it is important to know that the Surface Pro is not only a device with occasional tablet-like capabilities, it is a full Windows laptop that comes in tablet form factor. The new Surface Pro has all the main features of a laptop computer but it doesn't seem to be a perfect laptop replacement, at least not at this stage.
The Surface Pro is powered by Intel's top of the line processor coupled with up to 16GB of RAM with storage capacity up to 1TB. Microsoft says the battery on this laptop/tablet can last up to 13.5 hours which is pretty impressive and when tested, it gives an average of 8 hours after a full charge. It all depends on how hard you push the device. With inbuilt LTE modem, you can enjoy connectivity anywhere. Depending on how you use it, the new Surface Pro easily beats the iPad Pro and also gives tough competition to Mac.
Samsung Galaxy Tab S3
Powered by Snapdragon 820 chipset and 4GB RAM, the Galaxy Tab S3 is Samsung's 9.7-inch tablet you can choose as an iPad alternative. The Android tablet does almost everything you can do on Apple's tablet. The best thing is you can expand storage capacity on Tab S3 using a microSD card up to 256GB. This is why it deserves a place on the best tablets in 2018 list.
The Samsung Galaxy Tab S3 comes packed with features including HDR-friendly screen, S Pen support, four speakers and a powerful processor. Everything works as well as Samsung claims and for media consumption, its display and sound quality are satisfying. The software and hardware altogether make Tab S3 one of the best tablets in 2018.
ASUS ZenPad 3S 10
There's so much to praise the ASUS ZenPad 3S 10 for. Its excellent display quality and powerful processor make it an amazing tablet to consume media and manage light office work. The MediaTek MT8176 processor with 4GB of RAM makes it great for gaming. The Asus ZenPad 3S 10 is powered by a 5900mAh battery which is not the best but it cannot be considered a deal-breaker.
If you prefer a smaller screen, you can go for Huawei MediaPad M3 which is a good alternative. It is a better performing device in terms of battery life, but the Android M might disappoint you.
Check these best tablets in 2018 which we have chosen for you to compare and prove in your group of friends that your choice is great when it comes to buying a tablet.
Staff Writer; Corey Shaw
Have any Tech Tips? News? Hit up our Tech Guru at; CoreyS@ThyBlackMan.com