Should You Buy Refurbished Phones, Laptops Or Other Gadgets?
(ThyBlackMan.com) People who buy refurbished phones and laptops choose these products for two reasons. They want to add something to their vintage collection or they simply want more by paying less. A large number of people fall into the second category where the aim is to get more features, better hardware at a low price. Whether it's a bike, car or an electronic device, when it comes to buying repaired or used items online, the first question that comes to mind is "Should I buy a refurbished product or settle down for fewer features with a brand new product?" Here's a guide to help you go through this process.
What is refurbishment?
It is a process of distribution of electronic items which were returned to a vendor or the manufacturer. Remember that the reason behind such returns can be anything from faulty hardware components to a damaged body part or the user not willing to keep the phone.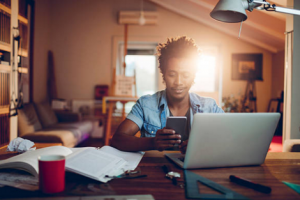 Refurbished products are tested for their functionality and defects. They are sold after they are repaired from manufacturer or vendor.
First thing first
No matter how cheap the deal is, always check who refurbished the product. In some cases, manufacturers sell refurbished products and refurbishment is done by the manufacturer only. In other cases, vendors who sell on a marketplace also get phones repaired from a third-party supplier. Make sure that you ask about which company has repaired the device and make sure checking that company's track record.
Warranty
Check warranty because you are most likely not waiting for a dead cell phone or laptop. If there's no warranty available for the product, you should prepare yourself to see the product dying soon after its arrival. This is obviously one of the biggest mistakes people make with refurbished phones.
Almost every brand new smartphone and laptop comes with a year-long warranty but with refurbished products, the warranty can be somewhere between zero to six months. Check if the product you like has at least 3 to 6 months warranty because buying a refurbished smartphone or laptop with 1 week or 10-day warranty is like inviting trouble.
Looks like new, but it is not new
Refurbished cell phones and laptop sellers typically offer a guarantee that their product is restored to the new condition. Some sellers even prove their claims by sharing enough photographs while others simply rely on stock images downloaded directly from the manufacturer's website or media kit. Always remember that the phone may look like new but it is not new and you must focus more on hardware performance. Restoration completely depends on who performed repairs and to what extent the device was damaged or abused.
When to buy & when not to buy
Don't buy a refurbished phone, laptop or any other gadget if you want the device to function as smooth as a new one. If you can't afford to see even a small malfunctioning then buying a refurbished device is not worth the rewards. In refurbished phones and laptops, there are chances of malfunctioning and that's why the seller can't sell them with 100 percent confidence and surety like how they sell a brand new product.
If you feel that your refurbished phone must look like a brand new phone then make sure checking real images of the product before you buy. Sometimes, refurbished phones come with scratches no matter how much the vendor or manufacturer tries to make them look new.
You should also look for the existence of the product in the market. Let's say you are getting a good deal on a laptop and the seller is giving you a warranty of around three months. It can be a good deal only if the manufacturer is still making the product and the components are likely to be available in the market for a long time. Don't buy anything which is out of production, especially electronic items.
Many companies sell refurbished phones and laptops directly as a way to clear their inventory and make some money with the old stuff. Before buying anything, check track record and make sure that you're buying from a reliable company who takes responsibility for safe transactions.
Staff Writer; Corey Shaw
Have any Tech Tips? News? Hit up our Tech Guru at; CoreyS@ThyBlackMan.com.