The Inside Story of Apple's Struggling Smart Speaker HomePod.
(ThyBlackMan.com) It's too early to say that Apple HomePod is a flop product, but sales reports look weak. Analysts at Deutsche Bank said Apple missed the mark, and a Chinese media report also claims that Apple will cut down HomePod's production by 60 percent. So why people are not interested in HomePod? Let's take a look at what's stopping people from loving Apple's smart speaker.
The Apple HomePod is a great speaker but it's not as smart as people expected it to be. As far as the functionality is concerned, the product fails to justify its $349 price. Apple promotes the product as the best smart speaker. It's true that HomePod's audio quality is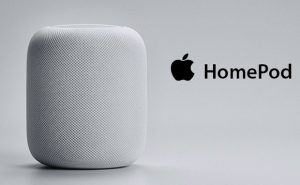 great but Apple probably overestimated its worth and didn't realize that people expect more than audio at this price. It's hard to ignore the lack of intelligent features in the package when the market is full of budget and premium products.
If you think that Apple arrived late to the party and that's why it is struggling to make an impact, it's not completely true. There's still market available for Apple, and it's huge. Statistics show that currently, 55 percent of the U.S. smart speaker market is controlled by Amazon's smart speakers and Google Home speakers control 23 percent shares in the market and hold the second rank. HomePods only control 3 percent of the market but opportunities are still there.
Apple entered the smart speaker market in 2018 while the rivals from Amazon and Google arrived early – Amazon Echo in 2014 and Google Home in 2016. These companies already had a roadmap for these products and it was very clear to everyone where the tech will take us.
Apple, on the other hand, has Siri for quite a long time, but the smart assistant never came out of the Apple's ecosystem. When its competitors are allowing third-party developers to develop solutions based on Amazon Alexa and Google Assistant, Siri is limited and it sucks. The smaller ecosystem limits the potential of Apple HomePod and that's one more reason why Apple is struggling to sell its smart speaker.
The smart speaker market is still growing and there's no sign of saturation in the market. This technology has the potential and smart speakers will pop up everywhere. Just like how we see everyone with a smartphone, smart speakers will soon become an inseparable part of home and workplace. Competition is not a very big problem for Apple HomePod and with certain changes, Apple can easily make HomePod a member of every household.
Apple is big enough to have a major impact in the tech industry. Apple wasn't the first to manufacture and sell smartphones but it's one of the industry leaders today. If fans are expecting the same magic from Apple HomePod, there are strong reasons to justify their support and loyalty for Apple.
Apple made HomePod release announcement last year and the device was scheduled to hit store shelves during the holiday season. Later the company delayed the product's release and the HomePod finally arrived in January. Apple missed that crucial holiday season and competitors, especially Amazon dominated the market that time.
From the beginning, people were shocked to see that Apple will be selling HomePod for $349 when Amazon and Google are selling low-cost smart speakers with voice assistants better than Apple's Siri. These companies have introduced entry-level models of these smart assistants under $100. This led many people to try the technology and as a result, the market share of these companies tell the story clearly.
Apple is trying to establish itself in the smart speaker market which is being ruled by two leaders. Apple's pricier product with less appealing features is bound to struggle in this market and if Apple doesn't make any changes to this strategy, the HomePod will turn out to be a product for hardcore Apple fans. People who prefer functionality over sound quality will not buy this idea.
There are rumors about a HomePod Mini device and if it happens, the device will likely be available at a 30-40 percent lower price than the original HomePod. Apple needs to understand that it's not just about pricing, Siri needs some solid improvements and the company cannot just keep all of its devices caged, at least not the HomePod.
Staff Writer; Corey Shaw
Have any Tech Tips? News? Hit up our Tech Guru at; CoreyS@ThyBlackMan.com