Apple iPhone 2018 Range: Here's What Apple's New iPhones Might Look Like.
(ThyBlackMan.com) Apple is apparently working on its iPhone 2018 range. The Cupertino-based company will introduce three smartphones later this year. After the last year's iPhone X release, the company is reportedly working on a big-sized phone and another phone which will be available for a lower price. As far as the successors of the iPhone 8 and iPhone 8 Plus are concerned, the company is working on something faster and affordable. Apple has not shared any official details about the new iPhone 2018 range, here's what fans can expect to see this year.
Some people are calling it the "iPhone XI" while many others are saying it would be called "iPhone X2". Interestingly, there are some reports about Apple dropping the numbers and the iPhone X successor will be called the iPhone. No numbers at all. Well, it remains to be seen because Apple always surprises its fans and without any official information, it's illogical to give it a name.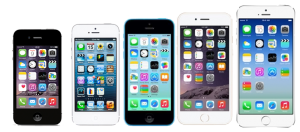 Those who are familiar with the iPhone 2018 range production said we are going to see a bigger iPhone this year. The phone will sport a 6.5-inch display but Apple won't label the phone as a phablet. The other two phones will feature large display but the body size will be the same as the iPhone 8 Plus. It's pretty clear how smartly Apple delivered edge-to-edge display on the iPhone X.
A big screen means more real estate for split-screen functionality. The iPhone 8 Plus offers split-screen feature and if the new phone is coming in the said size, Apple will surely give this ability to its new phone. It's a great way to attract business users. Reports suggest the big iPhone will feature OLED display with 1242 x 2688 resolution. It means we will see the same sharp graphics on the new phone.
Other than the new iPhone X successor, Apple will launch two phones in 2018 and these devices are expected to have A12 processors. The new chip will be faster than the current A11 Bionic, and in terms of design, these phones will retain the stainless steel edges.
One of the biggest changes suggested by insiders is a dual-SIM variant of Apple iPhone. There are chances that the company will introduce dual-SIM smartphones in Europe and Asian countries. We are still away from E-SIM technology but if Apple manages to include this into its iPhone 2018 range, it will be a big change and likely the feature will be limited to a few countries depending on the support provided by telecom operators.
Analysts predict Apple might choose to go with cheaper phones in 2018. It can happen because Apple has tried this with the iPhone 5c and the response was pretty good. These days, people want a bigger screen and to keep the price low, Apple will have to choose LCD over the OLED display. Such changes won't make any negative impact if Apple adds Face ID and other iPhone features on its new phones.
If there's going to be a bigger iPhone in 2018, fans should not expect its price tag to be lower than the iPhone X. A new iPhone X successor with a 6.5-inch OLED display, A12 processor, and the edge-to-edge display will likely be the most expensive iPhone ever. Cost cutting is expected in the two lower-end models.
While there are companies working on foldable smartphones, the Apple iPhone 2018 range will less likely take this path for designing its new phones. But it should be noted not only Microsoft but Apple has filed patents for a foldable smartphone unit. One thing is certain that the company will not deliver the same software experience with its iPhone 2018 range. In the smartphone world, both hardware and software must go hand in hand to deliver the best possible experience. Now when Apple is heavily focusing on augmented reality and artificial intelligence, the successor to iOS 11 is likely coming this year.
Staff Writer; Corey Shaw
Have any Tech Tips? News? Hit up our Tech Guru at; CoreyS@ThyBlackMan.com