PES 2019 vs FIFA 19: Things EA and Konami Should Learn from Each Other.
(ThyBlackMan.com) If there's a PES 2019 vs FIFA 19 battle, we can't say which game will win. Both the franchises have their supporters and there are people who don't mind going on any side because what matters the most is the quality of gameplay experience. There are many differences in the way EA and Konami design and develop their games but one thing is sure that both the developers can learn many things from each other to make their games better.
FIFA has always been a better-looking game than PES, and with time, EA has worked more on improving the game's presentation. Sadly, Konami didn't catch this speed in terms of designing intros, graphics, characters, and menus. When you are playing PES, you won't feel like you are playing an age-old game, but as soon as you move from PES to FIFA, you can observe the efforts EA has made on improving these areas of the game.
When it comes to licensing, FIFA easily beats PES and this is something Konami should focus on. Konami tried its best in the last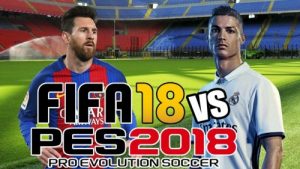 year but the game lacks real crests and kits. PES allows players to enjoy better customization options in clubs but it's filled with user-generated content and it is not something which is officially added to the game. Some of the good things Konami did in the last year's game are the inclusion of legends like Diego Maradona and also added Usain Bolt.
In PES, you can customize almost anything but FIFA lacks this flexibility. The last year's game FIFA 18 allows you to create players, but at the same time, it restricts you from creating teams. If you want to customize clubs for your Ultimate Team, FIFA doesn't give you the freedom to perform such customization tasks. With PES, Konami has delivered an extremely advanced customization suite which is designed to take attention away from the lack of licenses.
One of the best things in PES is the gameplay. PES 2017 and its predecessors were better than their rivals from FIFA but it wasn't the case last year. EA made significant improvements especially in dribbling and AI. PES wins when you compare the on-field elements but fails when you look at the things off the pitch. Why Konami should be worried because EA has made incredible progress with The Journey and if it keeps growing in the right direction, it can easily steal fans of Konami's PES.
Konami has done a great job when it comes to giving new ways to play. With the return of Random Selection Mode, there are some new twists and improvements and it has made the overall experience better than before. Now you and your friend can handle squads of random players. Since the mode is local only, you have to make sure that you're playing in the same room. In this mode, you can select random players from the countries of your choice and the best thing is you can build a squad consisting players from different parts of the world and each of them have different standards.
Commentary in PES is pretty dull, inaccurate and boring. Peter Drury and Jim Beglin fail to create the charm fans expect from a football game. Commentary in the game does not only feel repetitive but it also appears to be inaccurate at times. FIFA, on the other hand, handles this area very well. The commentary and audio are well synchronized and it doesn't create boredom. If Konami wants to learn one thing from the FIFA franchise, they should first make sure adding the right voice recordings at the right time and the commentators should be capable of creating excitement with their style which is absent in the last year's game.
The new changes in FIFA 19 and PES 2019 might influence which game you should prefer, but most importantly, both the companies will focus on making significant improvements and we can expect to see a strong competition this year.
Staff Writer; Corey Shaw
Have any Tech Tips? News? Hit up our Tech Guru at; CoreyS@ThyBlackMan.com