Sporting Careers For Non-Athletes That Are Achievable.
(ThyBlackMan.com) Men grow up dreaming of being an NBA star of an NFL quarterback and it sticks with them for the rest of their lives. Sitting back on a Sunday afternoon, it's impossible not to get caught up in the drama and excitement that is professional sports. Sadly, your opportunity is long gone because you're too old and not mobile enough to keep up with the young bucks. Just another dream to leave on the bucket list!
While starting for the New England Patriots may be out of the question, working in the game isn't unfeasible. As a percentage, only 0.005% of the population gets to become an athlete and realize their dreams. Yet, a hundred times that amount can frequent offices in franchises and clubs around the world.
How do they do it? Well, the first step is to understand scoring a winning homer at Fenway isn't on the cards. The next move is to apply for the jobs that require non-athletes. Here are eight of the best guys will want to know.
A Coach
The rite of passage for ex-players to go into management is difficult to dispel. On the whole, leaders in the sports industry are people with past experience of how the world works. Pro sports are closed-off and exclusive, and finding an entrance is never easy. Men like Sir Alex Ferguson and Jose Mourinho, however, never had glittering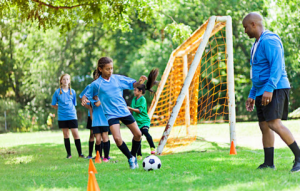 soccer careers. In fact, they barely played at a professional level for the majority of their short professions. Now, Ferguson is renowned as the greatest manager ever while Jose is following in his footsteps at Manchester United. What these two men prove is that it is possible to break through the glass ceiling with determination and clever career moves. Mourinho, for example, started out as a translator at Barcelona FCB and worked his way into top-level management. With coaching badges and creative ideas, someone will listen and take a punt. Just ask Paul DePodesta, the former analyst turned GM of the LA Dodgers.
Analyst-Cum-Scout
DePodesta is a fantastic case study for men trying to enter the arena that is elite sport. A former Harvard graduate, he majored in economics in 1995. Without any real experience, DePodesta picked up a job with the Cleveland Indians in '96 and rose to the role of special assistant. In '99, Billy Beane hired him in a similar role and the Oakland A's went on to become a leading franchise in the MLB. Afterward, he took the General Manager's position at the Dodgers and became the fifth youngest GM in baseball history. Currently, he's the Chief Strategy Office of the Browns. What's startling about his rise is his lack of top-level experience. DePodesta became a household name thanks to Sabermetrics, a technique that is still in use today. Baseball isn't the only sport looking to hire math majors from the top colleges to revolutionize their fortunes on the field.
Psychologist
Steve Peters is a leading sports psychologist and has worked with 'troubled geniuses' in all platforms. Americans won't know Ronnie O'Sullivan, but he's a mercurial snooker player considered to be the best ever. Able to play with both hands, his natural talent was never matched by his mental ability. Once he worked with Peters, O'Sullivan transformed into a winning machine and a legend in his sport. Laymen don't seem to realize the importance of a positive mental attitude in elite performance. When the brain is in cahoots with the body, an athlete is nearly unstoppable. As a result, major organizations will hire outside experts that can train their employees' minds. Granted, they have to be the best in their field, but progression is possible when you understand the inner workings of the brain. Anyone with a psychology degree, then, can just as easily secure a job in sports than a name brand star.
Fitness Director
Athletes need to be in peak physical condition to perform. Of course, NBA players aren't the leading brains behind the physical revolution. Instead, they listen to fitness experts that create and implement new training regimes. The great thing about being a fitness coach is that you don't have to be a sports fanatic to be successful. Understanding the human body is essential, as is being able to tailor sports-related programs. Still, knowing who won the Super Bowl in 1975 isn't a requirement on the job listing. As a result, guys with gym experience and personal trainers have found themselves treating a selection of tops athletes. Considering the demand is set to grow by 24% by 2020, the role is very appealing. The $40,000 median salary on offer with lots of room for expansion further down the line is also inviting.
Team Doctor
PhD students tend to imagine their lives running around hospitals saving lives. Plenty of graduates find their calling in ER rooms around the country, yet it isn't the only place to study medicine. Nowadays, the health and well-being of athletes are paramount from a financial and branding point of view. Without stars that are 100% fit to play, franchises won't win titles and they won't become brand names. A general practitioner is crucial in the process because they can prevent injuries and illnesses. Boxing doctors, although necessary in case of a life-threatening incident, usually spend 12 rounds sitting by the side of the ring. What's great about the need for medical experts is that it encompasses a large group of people. Along with doctors, psychologists, dietitians and nurses are members of the sports clique. Yep, you can enroll in a master of nursing course here and treat world-famous stars within a couple of years. As the average salary is around the $80,000 mark, it may be something worth considering.
Photographer
Interest in sports is global, from New York to Khartoum and Mogadishu. And, social media has only increased the number of people engaging with games around the world. As the popularity of professional sports rises, outlets have to be able to provide live and post-game coverage. This is where a photographer comes into play because he takes snaps and sells them to franchises and media outlets. You don't need a sporting background or to be any good at a particular game. All that's important is that you can use a camera and can snap amazing images at the click of a button. A photography qualification helps get feet indoors, but it isn't necessary as many employers go off a body of work. An amateur with a standout portfolio may get hired by a media company as opposed to a graduate fresh out of university. As well as camerawork, cameramen are imperative as billions of viewers watch sports on TV. As a result, IT technicians also work with and for some of the biggest names in entertainment.
Journalist/Blogger
Back in the old days, being a journalist was a straightforward and accessible way to be involved in sports. The writers would follow teams around the country and hand in reports, while also interviewing the main protagonists. To this day, journalists still provide a pivotal service for clubs and viewers alike. From print "hacks" to commentators and pundits, viewers trust and consume their opinions. Although they still exist, there is no doubt the trade isn't as powerful as it was three decades ago. Thanks to the internet, online blogging has taken over but you should see it as an opportunity. With the right platform, anyone with an opinion and a personality can develop a huge following on the Web. Whether it's right, personalities receive thousands of sponsorship dollars and invites to functions. With a loyal group of readers and viewers, you can "bluff" your way into a media seat in any stadium in the world. It beats going to college and earning a degree!
Umpire/Referee
The men in the middle of the field are the ones that control the game. According to the rules, they make decisions which can make or break a team's hopes. However, controversy isn't their modus operandi. In reality, every umpire or referee wants to get the decision correct and avoiding being in the papers the following morning. As you read this, the realization of the role may start to become apparent. Plenty of guys could earn their stripes but don't want to because of the pressure. One thing to be aware of is that umpire jobs are accessible compared to other positions on this list. In lots of cases, all it takes is a volunteer program in community outreach. For example, little league games that need an unbiased umpire. With this experience, you can apply for minor league roles and attend referee training courses. Depending on the results, the big leagues may call and ask you to join an elite program. With a 20% increase in demand expected, you may want to have your phone handy.
Can you think of any more ways non-athletes can make it in professional sports? And, what would be your role of choice?
Staff Writer; Larry Jones