When it comes to racial slurs, sports fans don't deserve the benefit of the doubt.
(ThyBlackMan.com) One of the NBA's greatest strengths compared to other professional sports leagues is how close the fans are to the athletes in physical proximity. NBA fans can literally sit courtside and be within feet of some of the greatest athletes in the world as they compete on the court. The opportunity to be so close to NBA players nearly took a bad turn in Denver recently when Oklahoma City Thunder superstar Russell Westbrook shoved a fan who stood in his way after the Thunder lost to the Denver Nuggets.
The fan was on-court, got extremely close to Westbrook, and screamed in his face before Westbrook shoved him out of the way and arena security removed the fan. Fortunately, the NBA decided not to discipline Westbrook for his actions but the incident served as a reminder that sports fans can go over the line at sporting events. Sports fans can not only physically cross the line but verbally in terms of obscene language and even racial slurs.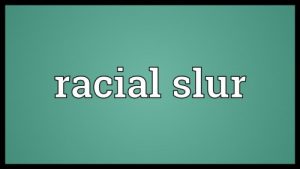 A verbal back and forth between South Carolina women's basketball coach Dawn Staley and Missouri athletic director Jim Sterk took place after a physical women's basketball game between Missouri and South Carolina in late January that was won by South Carolina at home. The game featured multiple scuffles and was a rematch of an earlier upset by Missouri. Multiple unsportsmanlike fouls were given out to both teams and the South Carolina crowd was very vocal including booing Missouri basketball players throughout the game.
Days after the game, Missouri athletic director Jim Sterk alleged that members of the Missouri Tigers women's basketball team were spit on and called racial slurs. Sterk placed some of the blame on South Carolina women's basketball coach Dawn Staley and said, "We had players spit on and called the N-word and things like that. It was not a good environment. And unfortunately I think Coach Staley promoted that kind of atmosphere, and it's unfortunate that she felt she had to do that."
Dawn Staley not only defended herself from those strong allegations but the South Carolina fans by responding, "The accusations are serious and false, and they will be handled in the manner reflective of those facts. Our fans are great. They're loyal. They're passionate. They understand basketball. They understand how to act in the stands. If I could uproot them and put them in every women's basketball arena, every coach that represents that particular fan base would be tremendously proud of what they bring to the table." It is interesting that Staley is so adamant that opposing players were not called racial slurs in a state that isn't viewed as the most progressive.
The athlete and fan dynamic in sports is definitely an unusual one. Many times some of the best athletes on a court or field are athletes of color who are performing in front of a predominantly white audience. Former Oklahoma State men's basketball star Marcus Smart, who is black, had an incident with Jeff Orr, a white Texas Tech fan, in 2014 when he shoved Orr in the stands after a verbal altercation in the closing minutes of the game, and received a technical foul. Smart claimed Orr yelled a racial slur at him. It is unfortunate and sad that due to the vulgarity that some sports fans yell and shout throughout sporting events that racial slurs are not out of the realm of possibility.
Staff Writer; Mark Hines