PS Plus Free Games For February 2018: Here's Everything You Need To Know.
(ThyBlackMan.com) Are you looking for some free PlayStation 4 games ahead of Valentine's Day? If you're a PlayStation Plus subscriber then you're lucky because the PS Plus free games for February 2018 include games we have been waiting for. The list of PS Plus free games includes Knack, one of the PS4's launch title. As there was a huge list of games when the console arrived, many players missed Knack and most of them obviously didn't choose to buy the game because of its poor score on charts. Read on to know about the other games coming for free this month.
Knack is a game that puts you among monsters where you experience platforming and enjoyable fights with monsters. The game's story features Knack and his creator beating up monsters to save humans from Goblins. The Goblins here are a unique kind of species. Knack and his creator face betrayal as some of their friends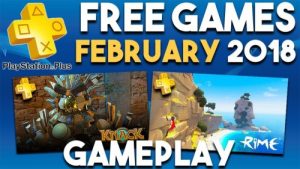 turn against them and make evil plans. The mission is to stop these evil-minded creatures from causing damage to the humankind. If you love Crash Bandicoot type games, you will most likely love Knack, and when a game is available for free, there are very few reasons to miss playing it.
Rime is also on the list of the PS Plus free games for February 2018. This game is not even one year old. Developed on Unreal Engine 4, this adventure-puzzle game by the developer Tequila Works features a boy and his journey on a mysterious island. The protagonist saw his father falling from their boart and then he goes on a mission that involves solving environmental puzzles. There are five stages in this game and each level is big enough to spend hours. The character can sing, shout, run, climb, push and carry objects. The boy sees a mysterious man in a red cape. Players will realize that the mysterious man is none other than the boy's father whom he lost in the storm.
If you are on the PlayStation 3 side, you are getting Spelunker HD free for the month. It is a remake of the Spelunker and is fun to play in HD graphics. It is not very different from the original game but brings 100 all-new levels and over 10 locations. If you love the 8-bit look of the original NES classic, you can easily switch to that version.
Put yourself in the shoes of the lady Chou-Chou who is on a mission to conquer more worlds in the Mugen Souls Z game on PS3. It is one of the PS Plus free games for February 2018. The game takes place right after the events of the first game and since Chou-Chou is ready to take control of the new worlds, there are 9999 levels in the game which will keep you busy. The lady is an undisputed God of the Universe and wishes to remain the same by knocking down enemies.
If you own a Vita and are a PlayStation Plus subscriber, you will get Exiles End game this month. Driven by exploration elements, this game offers side-scrolling adventure in a variety of locations you can explore and solve puzzles in. The diverse set of weapons is your true friend when you are under attack or making your way by eliminating different obstacles. The players take up the role of Jameson, a member of an investigation team that arrives on a remote planet. Jameson is an old soldier and is fighting to come out of this unforgiving world where he is challenged by enemies at almost every single step.
PlayStation Vita owners are also getting Grand Kingdom as a part of the PS Plus free games for February 2018. You get engaged in turn-based battles and take control of your squads. Your squad members can attack using magic and weapons. You can position your squad and plan your attack and defense strategies in the game. These games will be available for free from February 6 to March 5, 2018.
Staff Writer; Corey Shaw
Have any Tech Tips? News? Hit up our Tech Guru at; CoreyS@ThyBlackMan.com