How Do Nintendo Switch Cardboard Labo Kits Work? Should You Buy?
(ThyBlackMan.com) In case you didn't know, Nintendo Switch Cardboard Labo Kits are officially coming on April 20. Nintendo has confirmed that you can pre-order your favorite set of Labo Kits and start making cool things with the pieces of cardboard. Labo Kits are specifically designed for kids and their tech-obsessed parents who are keen to "play and discover new ways" to play with Nintendo Switch Cardboard Labo Kits.
You get two options – one is the $69.99 Variety Kit and another is a $79.99 Robot Kit. These Toy-Con kits are available for pre-order and will come with different accessories and features. Before we explore what's inside the two boxes, one important question that comes to mind is how they work. In the promotional video released by Nintendo, we can see people playing piano using the cardboard kit, we also get to see a fishing pole, and motorbike handle made by joining cardboards. It all looks cool and attractive. You can actually play piano, you can make robotic characters that actually move. But how do they work?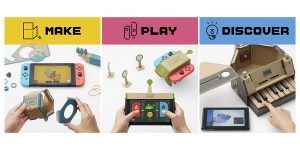 Nintendo Labo Kits enable players to create different objects with the help of cardboard pieces. These objects are called Toy-Cons and require Switch console's Joy-Con and a bit of DIY skills. Nintendo Switch Labo cardboard kits use the infrared motion camera available in the right Joy-Con to detect motion. When the cardboard creations make some movements, the Joy-Con then transfers these signals to the Switch console and translates it into a game. If you watch the intro video, you'll see a person playing the cardboard piano triggering the sound note in the respective game on the Switch console. The Labo Kits are Nintendo's first attempt at utilizing the console's infrared motion sensor for external gaming purposes.
The Nintendo Labo Variety Kit offers two RC car units, and single units of cardboard house, motorbike, fishing rod, and piano. This kit supports 5 different Toy-Con projects which you can create by following the instructions available on the booklet. Additionally, the kit also brings accessories such as cardboard sheets, reflective sticker sheet, strings, sponge sheets, grommet set, and rubber bands. Items in the Robot Kit are not very different, but this kit includes head visor and straps in different sizes. It is more like a backpack that turns your console into a robot controller so that you can play with Toy-Con creatures.
No matter which Labo Kit you buy, every Toy-Con created by you has a slot for the Console's Joy-Cons. You get started by creating Toy-Cons which you can do by linking the pieces of cardboard. Each creation interacts with Nintendo's Labo Software. When you are building a Toy-Con, there are chances you might rip off any piece since it's all cardboard, strings, and straps. Nintendo has got you covered as the company is offering a replacement option for these pieces.
One of the biggest questions is whether you can customize the cardboard pieces you get in the Labo Kit or not. The answer is yes. Nintendo encourages you to build anything you want. The good thing is you get some pre-designed projects which you can just create by linking cardboard pieces and there are ways to create your own designs and make your own games. These Labo Kits support both motion sensors and the Joy-Con's in-built camera. If you're worried about response time, the Toy-Cons are very responsive to the games you play on your Switch console.
There's a function called Toy-Con Garage and it lets you program different Joy-Con functions depending on your specific needs. It means that you can just pick the cardboards from your kit, and build anything from scratch. It can be a motorbike to control your RC car in the game or a completely original project of your choice. Kids will absolutely love customizing their Toy-Cons with colors. You can pick any kit and color the cardboard to give them the look you want.
So if you are planning to get any of the Nintendo Switch Cardboard Labo Kits or both of them, you are going to get fun games, completely customizable tools, and a lot of fun by building your own custom Toy-Con projects.
Staff Writer; Corey Shaw
Have any Tech Tips? News? Hit up our Tech Guru at; CoreyS@ThyBlackMan.com