Google Jacquard Smart Jacket Disappoints But it's Awesome.
(ThyBlackMan.com) The Google Jacquard smart jacket is on sale in stores and you can get one for $350. The smart jacket is the result of a strategic partnership between Google and Levi's and it comes with its own mobile app. There are several limitations with this jacket but the Jacquard technology is beyond those limitations and that's why even when the jacket doesn't impress much, the technology is more than what we see.
With Google Jacquard, it has become very clear that the future is not limited to screens where you have to provide input using visuals. With the arrival of technologies such as voice assistance and touch-based inputs, the future of wearable tech is more focused on using what we wear every day. There are many smartwatches, fitness trackers, and smart bands available today, but you have to learn to make them a part of your life, but with the Jacquard smart jacket, you wear the jacket just like you do and stay connected to the digital world without making any changes in your lifestyle.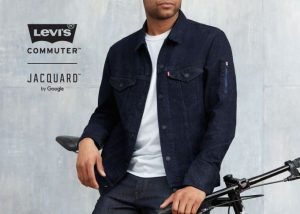 The moment you wear any product made by Levi's, you feel that the brand holds its 150-plus years of strength. The garments feel great and you feel the same when you wear the $350 Jacquard smart jacket by Levi's and Google. But unfortunately, this is not something very useful. The idea behind Jacquard is that when a person is riding a bike, he can just reach over the sleeve and listen to music, take calls, and interact with the phone without having to take out the device. It makes the ride safe as you are controlling things with your hand gestures instead of riding your bike while holding a smartphone in hand and inviting risk for other and for yourself. But can't we find similar solutions from a Bluetooth headset or a smartwatch that does the same and doesn't restrict you in the way the Google Jacquard smart jacket does?
The left cuff of the jacket is designed in a way that it takes inputs from your hand movements and signals are translated to your smartphone. To make this communication process smooth and possible, a Bluetooth-powered dongle gets attached to the cuff. As a result, you get the ability to control music playback with hand gestures and by using your jacket's left cuff like a touchscreen. There are many more tricks that can be managed by these touch inputs. For example, you can use Google Maps navigation system, and you can also manage notifications without having to pull out your phone.
The Google Jacquard works well but it is not a very useful product. It does exactly what it is designed to do. You can manage calls with the device, and its mobile application helps you set up gestures and assign controls with touch and swipe patterns. It does everything it is capable of without any performance issues, but it disappoints on many fronts. First thing is you can't wear the jacket throughout the year due to weather. The second thing is you can't wash it for more than 10 times. It means that even if you sweat a lot, which is very obvious after biking, you are bound to keep the jacket without washing once after you hit the 10-wash mark. Despite being a good, innovative product, the jacket fails to justify the price.
There's is a lot to complain about what the Google Jacquard smart jacket can and cannot do, but it's important to realize that the future of wearable technology is bigger and better. Jacquard can be considered as the first step towards a better technology because it paves the way for solutions that would not require you to keep something in your pocket or tie something on your wrist. The future of wearables is more about taking advantage of the stuff you use every day without making any big lifestyle changes.
Staff Writer; Corey Shaw
Have any Tech Tips? News? Hit up our Tech Guru at; CoreyS@ThyBlackMan.com