4 Reasons Asus NovaGo TP370QL Might Be The Wrong Laptop To Buy.
(ThyBlackMan.com) Asus NovaGo with Snapdragon 835 processor is one of the first Windows 10 laptops featuring this configuration. The major highlights are the long battery life, always-on LTE connectivity, touch screen, thinner design, eSIM and Nano SIM support, and Gigabit LTE. With 22 hours of battery life and ultrathin design, the laptop looks beautiful and has potential to attract. But the laptop doesn't appear to be suitable for all and it has some major drawbacks which can turn out to be deal breakers.
1. It comes with Windows 10 S
Windows 10 S is a locked down version of Microsoft's latest operating system. If you have used or heard about Google's Chrome OS, Windows 10 S is a similar attempt by Microsoft. Asus has launched NovaGo with this OS and this is one of the reasons it turns out to be an ugly laptop in terms of productivity. Microsoft Store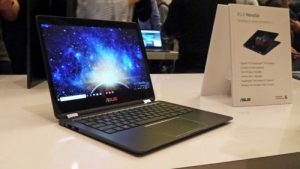 doesn't feature all the application PC users need in everyday life. The store hosts a bunch of standard apps, and this is the biggest problem with the Asus NovaGO laptop. Since it runs on the Windows 10 S, it is restricted to work only with apps from the Microsoft Store.
For example, you are trying to download a game from Steam, you can go ahead and download the file, but the moment you'll click the executable setup file, Windows 10 S will block it. If you'd like to use Mozilla Firefox or Google Chrome browser, you won't be allowed to do so. You will have to stick to the Edge browser. The good news is you can buy a Windows 10 Pro license and unlock this version and upgrade to Pro.
2. No detachability
Asus NovaGo features 360-degree hinges instead of a detachable keyboard. It means that you can use it like a tablet but it becomes annoying when the keyboard goes on the backside and you accidentally hit keys while using the device as a tablet. A 2-in-1 with a detachable keyboard is always light and fast to convert. With support for a keyboard, users can include extra storage or battery depending on the accessory compatibility, but with the laptop featuring 360-degree hinges, you can't expect any such advantages. Instead, when you fold the keyboard, it feels bulky.
3. Service plans are still a mystery
Asus NovaGo supports nanoSIM and eSIM for its LTE modem. Asus has confirmed that the laptop will support all the four major network operators in the U.S. market, but the company hasn't shared any details of those plans. Why it is a major concern because we still don't know how much charges users will have to pay for the plan of their choice. Since the laptop features always-on connectivity, the data consumption will remain high. On some other laptop, you can just turn off some features if you are not having enough prepaid data available. Until we hear the official words, we can't be sure about the plans and cannot believe that everything will be pocket-friendly.
4. Performance is worrying
If you use a laptop for media consumption Asus NovaGo is a good choice, but if you want to run some heavy applications or buying a laptop for programming, sound or video editing, this laptop is not a good fit for you. In some early tests, it was found that the device couldn't even run Firefox Quantum browser smoothly. The biggest reason is ARM architecture. There are hundreds of popular applications that do not support ARM and run only on x86 processors (AMD and Intel). The NovaGo brings Snapdragon 835 with 4GB of RAM and 64GB of storage at the price of $599. There's one more model available that offers 8GB of RAM and256GB of storage for $799.
The NovaGO is expensive because it's limited with Windows 10 S. It is a good alternative to Chromebooks, but without an upgrade to Windows 10 Pro, it makes sense only to those who need a small laptop that lasts long and performs small tasks like sending emails, chatting, light gaming and movies.
Staff Writer; Corey Shaw
Have any Tech Tips? News? Hit up our Tech Guru at; CoreyS@ThyBlackMan.com