Razer Phone: Reasons to Love and Hate Razer's New Android Smartphone.
(ThyBlackMan.com) The Razer Phone is finally here and just like Andy Rubin's Essential Phone, it is the first smartphone from its makers at Razer. The company that made the phone is known for making PC accessories and gaming hardware. Their first phone comes for smartphone gamers. The Razer Phone is a powerful bundle of performance, high-end specs, and a much smooth display than Apple and Samsung phones. But just like many other phones, it also has some weak points. Read on to check what makes it stand out and what you should know before buying.
Its display
Instead of focusing more on resolution bump, Razer has paid attention to one important factor – a 120Hz refresh rate. In almost every smartphone, the refresh rate is capped to 60Hz, but Razer has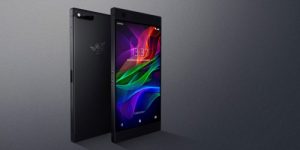 doubled the amount here and it's amazing to see how smooth the display is. Refresh rate matters because when you scroll down, see animations or play games, the phone's 5.7-inch 2560x1440p display changes 120 frames per image in a second. Many high-end gaming monitors feature this resolution, and on a phone, visuals look stunning and sharp.
Speakers
The phone has the best speakers in the smartphone industry. It may sound like an overstatement, but it's true. The phone's bezel is big at the bottom because here the company has placed dual stereo speakers tuned by Dolby Atmos. The sound these speakers produce is much better in quality than what many other smartphones produce. You can get astonishingly loud audio without any distortion in sound. The smartphone lacks a 3.5-mm audio jack which is odd, but it isn't a deal breaker.
Hardware & software
Razer uses the top and trending hardware parts in its mobile phone. As an obvious guess, the phone runs on Qualcomm's Snapdragon 835 processor. The device is equipped with 8GB of RAM, and there's a huge 4000MAh battery that lasts for more than a day. The phone comes with 64GB of internal storage capacity, but Razer has made sure adding a microSD card slot to support memory cards up to 2TB.
The phone runs on Android Nougat 7.1.1 and the company has also promised to release Oreo update for Razer Phone in early 2018. The device uses Nova Launcher skin and also comes with preinstalled themes.
Camera
The phone features an 8-megapixel front camera and 2 cameras on the back side. One of the rear cameras is a 12MP wide angle sensor and the other one is a 12MP zoom lens. Some early reports suggested that the camera quality of Razer Phone is bad, but as soon as more testers joined the bandwagon, it was observed that the camera is not really bad, but there are some performance issues in the software. Fortunately, the company has listened and Razer has confirmed that it will release updates for the camera software to enhance image quality. The phone is focused more on gaming and for those who do not click a lot of pictures, the camera is absolutely perfect, but those looking for the best camera phone, this is probably not a right choice.
With so much to love about the phone, there are some points smartphone enthusiasts are worried about. Quality of the product is something that worries phone buyers. However, there are no flaws in the design and build quality of the smartphone, but Razer has been in the PC market for years and users' experience with the company's products such as mouse, keyboards etc. are making them feel a bit hesitant about the new phone. Another point is how many people need a mobile phone for gaming? Razer phone price is set at $699. So, if a person wants a mobile device for gaming, Nintendo Switch is a better option at $299.99 and the remaining amount can be used to buy a decent smartphone at a low price.
Staff Writer; Corey Shaw
Have any Tech Tips? News? Hit up our Tech Guru at; CoreyS@ThyBlackMan.com