Pokemon GO Developer Is Working On Harry Potter: Wizards Unite AR Game.
(ThyBlackMan.com) Harry Potter: Wizards Unite is an upcoming augmented reality game being developed by Niantic Labs. The company is known for Ingress and Pokemon GO and now the developer, in a partnership with WB Games San Francisco, is bringing a mobile game inspired by J.K. Rowling's Wizarding World.
It's very uncommon to see hundreds of people from the same city playing a game on their mobile phone and wandering their neighborhoods. But in 2016, Niantic Labs and Nintendo made it happen with the release of Pokemon GO, one of the most popular mobile games. You could see many people holding their phones, walking or running in search of Pokemon. Nintendo organized several events to bring players in the same place so that they can meet and catch exclusive Pokemon during those events. The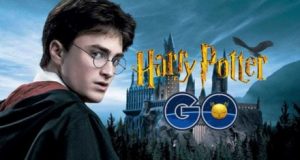 excitement of discovering new Pokemon and winning gym battles could be clearly seen on people's face. Now when the company is aiming to develop a similar kind of augmented reality experience with the Harry Potter: Wizards Unite game, it's going to be huge.
The company says that it is using state-of-the-art technology in developing Harry Potter: Wizards Unite game and the experience will be delivered to Android and iOS devices. There's no official word about the game's availability on Nintendo Switch or any other platform. The details shared by the developer suggest that players will be exploring real-world locations in search of artifacts and they will be meeting popular characters and beasts along the way.
The upcoming game will also support augmented reality and it will be a location-based game. It means that the game will follow the same path and it will send you out of your comfort zone to discover and collect new objects, fight some known creatures and meet the iconic figures in augmented reality. The company has not revealed any significant details about the Harry Potter: Wizards Unite gameplay, but fans have started speculating on the possibilities.
The wand is something that is a very important part of the Harry Potter series. It is like how lightsabre is to the Star Wars franchise. Niantic says that players will be learning to cast spells, and fans expect to experience this through their mobile phones by using their device as a magic wand. There are chances that Warner Bros will introduce a real wand for fans. If Nintendo can release a Pokemon GO Plus device for its game, launching a magic wand for Wizards Unite players wouldn't be something very strange.
Some of the features including region-specific objects or artifacts and hidden locations in the game will definitely make the gameplay more exciting for players. There are chances that the company will introduce teams based on the Hogwarts houses. Just like how Nintendo introduced different teams in the Pokemon GO, which can be joined by the player when they start playing the game. A similar kind of system inspired by the Harry Potter story can be implemented in the upcoming game.
There's excitement among fans, while some fans are worried about the gameplay. A large number of people are still not happy with the developer's progress on Pokemon GO. Since the game's launch, the company has been working on it and even after announcing the Harry Potter: Wizards Unite mobile game, the company had to give a clarification that it will keep working on Pokemon GO and updates will be rolled out in 2018 and beyond.
Players are worried about the potential glitches. And even if the game comes without glitches, gameplay is something which remains in question. Niantic developed Pokemon GO on the basis of its experience with Ingress. Now the company is working on a Harry Potter game with the same technology. So if the company follows the same path, the gameplay will not be very exciting. You'll most likely get many options to customize your characters, go out in the world and search things. Harry Potter series has many characters you can encounter with. So, you will be meeting some of them, and waiting for the most attractive ones as they will probably be unlocked. The way raid battles work in Pokemon GO, the same will probably happen in the Wizards Unite as players will be teaming up and fighting a boss. It would be interesting to see how Niantic and WB Games bring a different gameplay experience with this partnership.
Staff Writer; Corey Shaw
Have any Tech Tips? News? Hit up our Tech Guru at; CoreyS@ThyBlackMan.com