Father and Son Attending and Speaking at International WordCamps.
(ThyBlackMan.com) Growing numbers of public school educators, higher education instructors and private school educators that are engaged in writing/blogging and building dynamic content
have turned to the WordPress platform to post their digital
content.
WordPress the open source application has allowed educators on multiple levels to create and share dynamic content integrated with Social Media platforms Twitter, Tumblr, LinkedIn, Facebook, Google+, video and Podcasting elements.
Teachers are learning that traditional instructional lecture methods are not working with their high tech students and mobile/wireless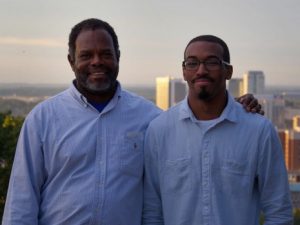 technology. Applying technology is a must, grab student's attentions that are already immersed in digital environments. Teachers must adapt to integrating diverse technologies into the learning environments to address the varied learning modalities of their students.
Blogging, even video and microblogging is a way of using text, graphics and video to share information on diverse digital platforms and build valuable writing skills to enable and enhance the ability to create dynamic content online.
Teachers in higher education are familiar with the "publish or perish" requirements in demanding higher education careers and students in higher education are facing this as well.
To keep engaged and active in posting and publishing educational, technical, scientific and other types of information preparing for careers in knowledge based fields.
WordPress powers more than 30% of the web pages on the web and this is growing because of the security, flexibility and ease of learning. The support for WordPress is phen-omenal with local meetup groups and online help that is both national and international. Creating "families" of content activist and social activism on a global scale never before seen.
WordCamps help develop the ability to build tech skill-sets, develop intellectual content, support digital innovation, web development, coding and knowledgeable teaching to beginners of blogging and web development.
More students are creating online digital portfolios, resumes and even curriculum and academic vitaes to apply for online jobs that are in need of skills that even middle/high school students may have.
Technology is allowing even elementary, middle and high school students be Entrepreneurs starting businesses and even I-trepreneurs that are coders, developers and innovators with individual talents.
As an advocate for blogging and microblogging to build student's online reputation and digital footprint I continue to blog about
WordCamps, EdCamps, BarCamps and other events. I have attended multiple WordCamp conferences; spoken at WordCamps and Live blogged at several where I have gained international attention. I have taken students from the historic
Edward Waters College to WordCamp Philadelphia, EdCamp Tampa, EdCamp NABSE National Alliance of Black School Educators and traveled with Emma Kent, research librarian of Edward Waters College where we presented "How To Be Dope On Social Media," at WordCamp Washington DC, WordCamp Jacksonville Florida, WordCamp Wilmington, North Carolina.
Traveling with my son, a 2015 graduate of FAMU and currently a graduate students attending Florida State University. We attended WordCamp Birmingham Alabama and will be attending WordCamp Orlando 2017.
It is key that community activism and community activist use Social Media to share and magnify the voice of the voiceless using technology. No one should allow just one source of media to tell their story and create a digital persona of them.
Applications like WordPress can enhance storytelling and give everyone a platform of expression and activism.
Note; Sean Jackson, graduate students Florida State University.
Find WordCamps – https://central.wordcamp.org 
William Jackson – Twitter http://twitter.com/wmjackson
Instagram – http://instagram.com/williamdjackson
Staff Writer; William D. Jackson
Find out more about this talented writer over at; OCS For Education.