Google Clips Camera: How Safe It Is To Use At Home & Parties?
(ThyBlackMan.com) Earlier this month, in San Francisco, Google announced a new device Google Clips camera. What makes the Clips camera so special is the ability to capture images and short clips without human help. The same ability makes it creepy and some tech enthusiasts believe that it is not at all safe and is an attempt to damage our privacy.
If you want to know how the Google Clips camera works, here's the answer. You can just keep it anywhere or just attach it anywhere, for example, the back of a chair. The Clips camera will keep analyzing the scene and when it catches some movements such as smile, laughter or some events like birthday parties or Christmas parties, it will start taking pictures and short clips of people.
You may be thinking that any point-and-shoot camera can do that. You're absolutely correct because even a mobile camera if placed somewhere can capture moments through timer settings and video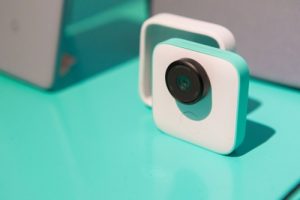 recording modes. But with the Google Clips Camera, you don't need to be a photographer. The camera is an artificial intelligence (AI) based device that learns from people. With Google's solid machine learning techniques, the Clips camera can detect the right moments and decides when to capture a picture or a short clip.
You don't need to connect it to the internet to transfer the images and clips it captures. The interesting thing is the device doesn't require an internet connection. You can just connect it to your mobile phone and transfer the data captured by the camera.
Everything looks so perfect in the Clips camera. The Clips camera weighs 60.5 grams and the battery lasts for 3 hours. The camera, with a 130-degree field of view, captures images at the rate of 15fps.  The internal storage capacity is 16GB, so you can keep the images on the device itself if you do not want to add more data to your phone.
The Google Clips camera runs on the Android 7.0 and will likely be upgradable to the new versions of the mobile operating system. The camera supports JPEG, MP4, and GIF formats for recording, but unfortunately, there's no audio recording facility available.
The Clips supports Wi-Fi and Bluetooth. With Wi-Fi Direct, transferring data becomes fasters and easier. The device also has a USB-C port
Everything sounds great, but the fact that the Clips can be a serious threat to privacy worries many people. This gadget could be used for evil purposes. It works anonymously and nobody will be able to know that their images and clips are being taken. Google doesn't find any problem with the device and the company says that this is impossible for someone to use the device to spy on people.
In its official statement about the same, Google said that the Clips camera is designed keeping parents and pet owners in mind. According to Google, these two types of people will use it the most.
The camera captures 7-second clips and not long videos, but it is still a threat to privacy. Storing and transferring data is safe with the Clips, but what if someone starts reverse engineering the device and hacks into your system and steals content? The possibilities of threats are many. Some tech enthusiasts are worried about the reach of these devices. Such devices would be found clipped in places where they should not be. For example private lockers, restaurants, and parks etc. If someone wants to spy on a person, it is really easy to do the same because all they have to find a safe place to clip the device, so that they can take it back, transfer the data and clip it again without letting anyone know about their activities.
Google has tried it's best to keep the device safe from any such attempts, but just like how some people misuse technology, there are chances that a Google Clips camera can be used in many ways.
Staff Writer; Corey Shaw
Have any Tech Tips? News? Hit up our Tech Guru at; CoreyS@ThyBlackMan.com