Nintendo Switch Supply Constraints Making Console Lose Competition?
(ThyBlackMan.com) It's really hard to find Nintendo Switch available on sale. Even if you find it, the units get sold quickly. It is a good sign that Switch is doing far better than previous consoles launched by the company, but the wait is slowly turning the console war against Nintendo. According to recent reports, despite high sales, Switch is losing ground to Sony's PlayStation 4.
The PlayStation 4 has been topping the sales charts in Japan since two weeks. It doesn't mean that people are no longer interested in buying Nintendo Switch, but the uncertainty about the console's availability making it hard to hold on. Now the talks about Sony bringing a new console are rising and Sony's current generation consoles are doing well in the Japanese market.
Nintendo is the second highest-selling console in Japan and poor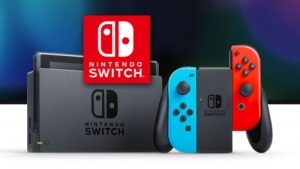 supply is a key reason, but if you look at the software charts, Sony is beating Nintendo here as well. The PS4 exclusive game Gundam Versus is topping the chart as the highest-selling software, while the Switch games including Mario Kart 8 Deluxe and ARMS are below it.
Supply issues are nothing new with Nintendo consoles. The company has discontinued some of its previous consoles even when there was a high demand. With the recently launched SNES Classic Mini, Nintendo is still struggling to fulfill supply demands.
Nintendo has big plans for Switch. On July 21, the company will roll out the Nintendo Switch Online App. Those who are unaware about this news should note that this is a smart device app Nintendo is launching to enable players to do more with Switch online. Initially, Nintendo is providing this app with limited features and the application will initially support the Splatoon 2 game. The application will allow players to access their game's statistics, gears remotely. Players will be able to bring their friends on board and enjoy voice chat too.
Nintendo is planning to launch its paid online service in 2018. This year, the service is available for free with a limited set of features. Those with Nintendo account will have to pay subscription charges in order to continue the service next year.
The line-up of games, company's internal plans for the console clearly suggest that the shelf life of Nintendo is going to be longer than everyone expected. The company will continue supporting the console, but all of these features and services are of no use when people are not even able to get their console delivered.
Now when the holiday season is nearing, we are expecting solid announcements from Sony and Microsoft. The latter is already gearing up to launch Xbox One X this year and rumor mill is actively hinting at the possibility of the arrival of a new PlayStation console from Sony. However, Sony hasn't shared any specific details about such announcement or release, there are a couple of things that can actually cause harm to Nintendo Switch.
The Switch has seen tremendous growth in sales since March, but supply issues are really causing frustration among buyers. Sales chart from Japan doesn't represent the sales around the world, but the indications can't be ignored. We can't deny the fact that Amazon Prime deals and other PS4 Pro bundles are capable of causing damage to Switch's sales. As far as the playable content is concerned, Sony undoubtedly wins the game with its huge list of upcoming titles that includes some exclusives as well. The Switch also doesn't lack content, but there seems no way to get plenty of content on the console anytime soon.
From the day one, Switch appeared to be a great but unfinished console. All hardware systems go through a painful stage at some points but the Nintendo Switch ships with issues that are bigger and clearly visible. Now when people are not able to buy the console easily, it seems that Nintendo itself is getting its console killed.
Staff Writer; Corey Shaw
Have any Tech Tips? News? Hit up our Tech Guru at; CoreyS@ThyBlackMan.com.