Love & Hip Hop Atlanta Joseline Hernandez and Stevie J. Fight with Veggies.
June 17, 2017 by Staff
Filed under Uncategorized
(ThyBlackMan.com) What is wrong with these people? Neither Love & Hip Hop Atlanta Stevie J. nor Joseline Hernandez are anywhere near the parent of the year, not sane people, award. It's unfortunate that parenthood doesn't make adults grow up. One would think that the arrival of parents would forge some kind of truce for the sake of the baby. Well, up until recently we could have thought that was the case between Stevie J. and Joseline Hernandez…but apparently not.
These two are headed back to court, and this time is may cost Love & Hip Hop Atlanta Joseline Hernandez more than she could imagine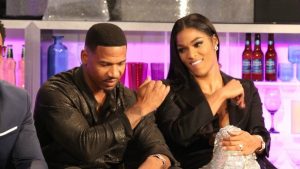 paying. As a mother, you must always put the welfare of your child above you…this includes one's temper.
Love & Hip Hop Atlanta Stevie J and Joseline Hernandez, along with Stevie J's attorney, met at a restaurant. Only God knows the nature of that discussion, but apparently, something rubbed Joseline Hernandez the wrong way. Instead of handling the situation like a grown woman, a mother and one who could have her custody contested she resorted to grade A foolishness.
In the presence of witnesses, and a lawyer, Love & Hip Hop Atlanta Joseline Hernandez allegedly picked up a plate with hot mushrooms on it and threw it. There were witnesses that claimed they were scared, and of course Stevie J said the same. What was Joseline thinking?! Let's be real she was not…and she played right into the hands of Stevie J.
If you not with your baby's father and y'all have beef the very least you can do is be on top of your business as a parent. Stevie J will be taking Love & Hip Hop Atlanta Joseline Hernandez back to court, and this time it will be for assault. She has had a history of having a very fiery temper, and now her sanity or should I say psychological sate will be bought into question by a judge. Though Stevie J. makes my skin crawl I honestly have no love for Joseline Hernandez at all.
I'll never say she wasn't provoked, but I will say she wasn't thinking of her baby. No man is work you possibly losing custody of your kid. Love & Hip Hop Atlanta Stevie J told the world Joseline Hernandez was a crazy fool, and she is proving him right. It would be in the best interest of little Bonnie Bella that Joseline find her some anger management, and both of them deal with each other with the best interest of the baby in mind. Hot mushrooms Joseline…REALLY…please sit down somewhere.
Staff Writer; Adonicka Sassy