Apple MacBook Pro vs. Microsoft Surface Laptop: What Apple Needs For Future Models.
(ThyBlackMan.com) Cupertino based tech giant has not revealed the new Apple MacBook Pro release details and it seems that the company won't bring it anytime soon. The last year's MacBook Pro brings so much for the users, most importantly the Touch Bar version. On the other hand, Microsoft announced its Surface Laptop which is said to give nightmares to Apple. The Microsoft Surface Laptop is highly customizable and has a lot more to offer to its specified target audience, here's a comparative analysis to find out what Apple needs for its MacBook Pro product line. Check out this Apple MacBook Pro vs. Microsoft Surface Laptop battle to see what Apple lacks and what it should do to remain at the top.
In terms of design, the 13-inch Apple MacBook Pro when compared with the Microsoft Surface Laptop is found to be 5 percent shorter. The MacBook Pro feels lighter, but against its rival Surface Laptop,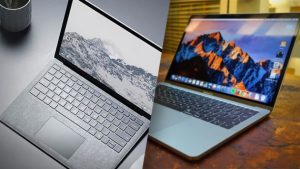 it is heavier. Microsoft has strategically delivered 13.5-inch display because it is undoubtedly bigger than what 13-inch Pro offers. Rivals have so much to make Apple nervous. Despite being so lightweight and bigger in size, Microsoft Surface Laptop also comes in the same aluminum body as Apple's MacBook Pro. When it comes to color options, Surface again beats MacBook Pro with its four unique color options.
Both the Apple's MacBook Pro models (Touch Bar and non-Touch Bar) are powered by 6th-generation Intel core i5 processors, where the Touch Bar model is faster than the latter. Apple also allows users to upgrade to an i7 6th-generation processor. On the other hand, the Surface Laptop comes with 7th-gen i5 and i7 processors. Apple undoubtedly needs to bring a bit more powerful product in its MacBook Pro line.
Apple delivers its MacBook Pro with 8GB RAM and it can be configured up to 16GB, while the Surface Laptop is set to give you 3 options to choose from (4GB, 8GB and 16GB RAM). You can see that Microsoft has introduced more options for different buyer categories. Even though the company aims to focus on students only, it still manages to bring multiple options.
Battery life is one of the major concerns with today's laptops. Microsoft promises 14.5 hour battery life. However the company hasn't shared specific details about the battery it is using, but if the claim turns out to be true, Apple will be facing a strong competition. In Apple's realm, the non-Touch Bar MacBook Pro features a larger battery than the Pro's Touch Bar edition. But for both of them, Apple promises 10-hour battery life.
The Apple's MacBook Pro comes with TouchID fingerprint sensor that allows users to login easily. The same feature can't be expected from the Surface Laptop, but there's one thing you would want to see in MacBooks is the face recognition feature. For easy logins, Microsoft is giving a Windows Hello face recognition feature.
Other than the soothing colors, Microsoft has given Alcantara fabric-covered keyboard in Surface Laptop which is absent in Apple's MacBook Pro. The synthetic microfiber not only gives the keyboard a clean and elegant look, but it also makes the keyboard soft and surprisingly changes the key press sound. This is not something all the Apple MacBook Pro fans would want, since the wear and tear issues with this approach remain to be discovered.
With Apple products, price has always been a subject of discussions. One of the reasons behind Apple's success is its different pricing strategy, but it is also a reason why a large number of people are still choosing other brands over Apple. If you look at the Microsoft Surface Laptop's price tag, it will tell you a clear story that the laptop is made for those who prefer functionality within budget. On the other hand, Apple MacBook Pro is available at almost US$500 higher price tag.
Apple is undoubtedly doing well, but tech enthusiasts have high expectations and hopes. This time when Microsoft has jumped into the laptop market, it would be interesting to see what Apple does to hold the ground and its position.
Staff Writer; Corey Shaw
Have any Tech Tips? News? Hit up our Tech Guru at; CoreyS@ThyBlackMan.com.