6 Answers to Avoid Overspending on Holiday Gifts.
(ThyBlackMan.com) You may live by a strict budget all year round but undo all your good work at holiday time. Spending over Thanksgiving and Christmas often leads to a financial headache in January and you may regularly forget about your budget when you go on your annual holiday. When you have saved up for that holiday you may want to spend it all. Do you find yourself wasting money when you would not dream of doing that at other times of the year?
One of the problems, especially when it comes to buying gifts is the worry that you might seem mean if you don't buy something of value. Where you have a large number of people you feel you must buy for then you are likely to be in for an expensive time unless you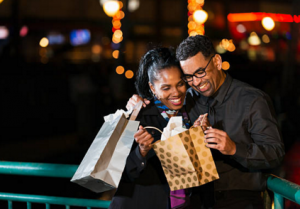 are careful. That knowledge in itself will be stressful but you must resist overspending just because you want to relieve that stress. If you create financial problems for yourself, the stress may well be around for much longer.
1. Decide on a Budget
If you have understood the need for a budget to manage your finances all year while you are suffering from heavy debts because of high interest rate you had to accept from online realistic loans lenders, while having lower credit score in past, you should put that holiday spending into your budget. You must decide on the appropriate amounts and stick with them. Divide the amount by the number of gifts you expect to buy and you will have an approximate limit per gift. If the figures don't look good, then you may need to reduce the number of gifts you intend to buy.
Dollar Maximum
You may have two tiers of gift. If you decide that really close family are separate to other relations, then work out the figures you can afford for each member of the two groups. As long as you don't exceed that figure for anything you then buy, you will have to be within budget.
Personal knowledge comes into it. Some close relations may well take the view that it is the thought that counts and they could be people with fairly simple tastes. You should be able to spend a little less on them without causing any offence.
Sometimes having a fairly tight budget will concentrate your mind on thinking creatively. If you can make someone laugh with a fairly inexpensive gift, then you can create some budgetary leeway for yourself.
Reduce Your List
You may well find it difficult to reduce the number of presents suddenly if you have bought for a specific number of people. You are likely to hurt a few feelings if you intend to buy fewer but you do not think about the potential consequences of that. Here are some ideas that might help:
Discuss the subject with family and friends. Explain you want to buy less this year and you may find that everyone else agree. While you may be reluctant to change anything for the kids, adults are far more likely to be happy with something small, particularly if they have most of the things they need and want.
If you think that there is an obvious gift for the whole family that every member might like, then one large present may be an answer rather than buying individual gifts.
Decide whether there are people on your existing list who are not especially close. Sometimes a card does just as well.
2. Exchanges
You may have an answer in creating a bit of fun. If all the family names are put into a hat, each person draws a name and then is responsible for buying that person a gift and you will need money to cover all expenses in vacations. You can spend much more on that one gift than you ever could to buy for everyone. Obviously, everyone in the family no longer has many presents to open but each will get a bigger gift than they otherwise would.
3. The Kind of Spending
Why not think about buying something second-hand? There is a limit to what is suitable if it has been owned by someone else before but things like books and collectables are fine.
You can look online, sites like e bay and Amazon as well going to Thrift Shops or Used Book Shops. As long as you check that something you consider is in decent condition, there should be no problem.
4. Use your Skills
If you are skilled and creative, the cost of a gift may be only your time and raw materials. Perhaps you can sew, paint or knit? You can make simple, colourful toys for children or unique jewellery for adults. An album full of photographs can be a great gift for a parent, especially if there are photographs just lying around in boxes.
5. Sales
You need to avoid impulse purchases and think about the gifts to buy. There are always bargains, online and at certain times of the year in retail stores. Take advantage of that.
If you are shopping online, take into account any shipping costs and read the small print in every case. You can compare prices and should be under no pressure if you are online.
6. Shipping
The cost of shipping is always a factor when you are buying gifts. Perhaps you see something that would ideally suit someone who doesn't live locally? Instead of buying it, and incurring shipping costs, why not give a voucher for the value so they can buy it locally? Everyone wins.
You don't need to spend on fancy packaging; it will be only thrown away. As long as the gift is wrapped securely, it will arrive in good condition.
Staff Writer; Charles Ross