Samsung Gear Fit2 Band Issues: Is There a Serious Problem with Today's Wearables?
(ThyBlackMan.com) Samsung Gear Fit2 is one of the greatest fitness bands available in market. If the price tags are something to go by, Samsung has undoubtedly gone beyond Fitbit's offerings. But a smartwatch that claims to keep users healthy and fit is reportedly damaging their health by causing burn issues.
The Problems
The Korean company Samsung is not alone, recently, Fitbit also got the same complaints from a lady who apparently suffered 2nd-degree burn after wearing the band. This is not the first time when users are complaining about burn injuries and skin irritation from wearables. Last year, Intel had to recall its smartwatch line Basis Peak due to an overheating issue.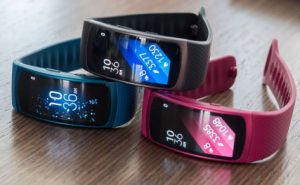 Everyone who is interested in trying different wearables that include normal fitness bands and smart devices like Gear Fit2, considers the device's specifications, price, features and design as the most important aspects. But now when the burn issue related complaints are unstoppable, should you add skin sensitivity to your watch list?
Finding The Reason
No one can forget the fate of Samsung Galaxy Note 7 when the overheating issues started to surface online. But consumers easily forget to consider their own safety when they look for new smart products.
Overheating and burning issues are obviously driven by sudden rise in temperature. So when it comes to a device like Samsung Gear Fit2 band, there can be two reasons. The overheating can either be a result of faulty components (possibly with manufacturing defect) inside the fitness band or something that transfers heat to the battery.
One more thing that makes these wearables suspicious is the battery. If the battery itself is faulty, then you can't expect safe operation. It will cause burn issues and if the overheating remains the same, the chances of explosion can't be denied.
Samsung Says "There are No Issues"
When multiple complaints started to appear, Samsung finally released a statement. The company's spokesperson said "There are no known safety issues with the Gear Fit2."
So, if this is what Samsung thinks then the customers reporting the issues and even sharing the photographs as proofs are probably lying. Well, you can visit Samsung's official forum filled with such complaints. But since the company has already sold the product, and fortunately, no one has reported their Gear Fit2 bursting into flames, there are chances that the issues will be overlooked.
What Customers Don't See
The long-term health effects of fitness trackers like Samsung Gear Fit2 and Fitbit are still unknown. We have no concrete information on how wireless technologies such as Wi-Fi, Bluetooth, infrared are damaging our health. But lack of report is not an evidence of safety. Customers need to decide whether the risk is worth taking or not.
The World Health Organization's International Agency for Research on Cancer suggests that the waves emitted by fitness trackers are similar to the waves emitted by mobile phones. These non-ionizing waves are classified as "possibly carcinogenic to humans." Limiting direct phone- to-head contact for cell-phone calls is recommended by The National Cancer Institute.
It is very obvious because we have almost every feature of smartphone in today's smartwatches and fitness trackers. Even if these products are a risky investment, how can you avoid trackers which are meant to be on your wrist for days and weeks?
Now when the smartphone features and most importantly the water resistant technology is there, companies are trying their best to keep the device with you. You have no other excuse than wearing their products. No matter whether they are really designed to give you perfect health or you are just tying explosives on your wrist.
Samsung Gear Fit2 Features, Specifications, Price & Review
The Gear Fit2 reviews are good. It is obvious because at the same price tag, other leading brands are offering very less features. Samsung's smartwatch features a 1.5-inch Super AMOLED display and unlike its predecessor, Samsung's Gear Fit2 brings a better design idea and looks more flexible. When compared with Apple Watch, you'll feel that almost 100g of weight is reduced by Samsung.
What makes the smartwatch more appealing is the built-in GPS, the ability to track a lot of types of exercise, its screen and notification support which is extended in this watch. One of the unique features you find in Samsung Gear Fit2 is the social connectivity. You can compete against your friends through S Health app. Beating your friends and winning trophies is one of the features of this app that is bound to keep you motivated. The good thing is that your friends don't need to own a Gear Fit2 as they can simply download S Health app on their phones to monitor progress. Here again the issue comes when a group of people is trying to make everyone aware about the potential risks of IOT invading in privacy.
Bottom Line
No matter how many claims wearable manufacturers make, the devices people wearing on their wrist are not completely safe. The radiation, chances of faulty components and malfunctioning will keep customers at risk.
Why can't we rely on ourselves to follow a healthy lifestyle? Do we really need such smart gadgets to push ourselves to live a healthy lifestyle? Or if they are really very necessary in tracking and measuring our progress in achieving health goals, why can't we push these companies to deliver a product only when they find it completely safe and test it for some time before putting their customers at risk?
Staff Writer; Corey Shaw
Have any Tech Tips? News? Hit up our Tech Guru at; CoreyS@ThyBlackMan.com.