Great Tips for Black Entrepreneurs.
(ThyBlackMan.com) All the world's best known businesses once began as the entrepreneurial dreams of their founders. From GE to Facebook to Google to Uber, every great success has a hard beginning. Entrepreneurship is a tough road, filled with pitfalls and failures, and it's unfortunate but true that black entrepreneurs can run up against harder sales and steeper difficulties.
These tips should help keep you on-track for business success, no matter what niche your business is in.
Entrepreneurship thrives on risk-taking, and there's a certain point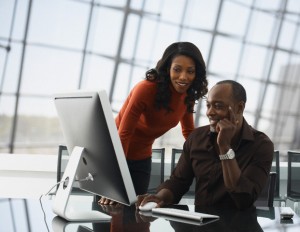 where you need to know when to gamble. If you get an unexpectedly massive order and don't know if you have the personnel or facilities to make it work, risk to make it happen. A moment of critical risk taking is a consistent factor in most entrepreneurial stories. Don't let yours become a story of failure because you refused a risk and a challenge that would make you grow.
Quora is an online forum dedicated to answering questions and providing data. Answering the questions of other people on Quora about the industry of your startup can help build your reputation as an expert, and also serve to advertise your business. But it's also a quick and easy way to keep a record of how much you've learned. It can be extremely gratifying to go back over the questions you've answered on Quora to see how much you've learned by participating in an active community and over your journey as an entrepreneur.
Employ Cold Emailing Strategies
Cold email possible clients to pitch your service. You'd be surprised how often this can turn into a legitimate sale, and it's a great way to begin building up your database of contacts. A fantastic Fast Company study on cold emailing gave a lot of evidence for the possible value in cold emailing, and even suggests solid, tested ways to improve cold emailing formulas for the best results. When every potential client matters, it's important to do everything you can to get in contact.
A great CRM or 'Customer Relationship Manager' logs all the information of your clients and contacts… as well as conversations with them, dates, and much, much more. If you really want your business to grow, then using a CRM from the beginning can help you manage your professional relationships to grow them to their fullest potential. Most of the best CRM software can prompt you to reach out to contacts regularly and store important, actionable information which can make your marketing efforts a breeze as your business scales up.
Branding can help your new business stand out from a crowd, and employing a great branding strategy can help grow the pool of individuals aware of your business swiftly and effectively. It can also project a sense of quality and professionalism. As soon as you've got your logo and brand pinned down, research the most clever and cost-effective ways to begin branding as a policy.
Don't Be Afraid to Ask For Help
A key problem to always be aware of is the fact that you will probably need help, one day. It's a fact of life, and when starting up a new business, is always inevitable. Instead of getting tied down to proving your own self-sufficiency, be aware that problems can usually be prevented if you ask for help sooner… rather than later. Don't let yourself be one of those entrepreneurs brought down by pride over sound business strategies.
Entrepreneurship is a hard road, and the majority of all startups fail, for one reason or another. But if you're serious about attaining your entrepreneurial dream, these tips can help to fast-track you to success. Never shy from wise risk-taking, for example, and share and grow your expertise using Quora. Engage in cold emailing to grow your pool of clients, and utilize a CRM to manage your contact relationships.
Staff Writer; Bobby Ford