Saving Money On Your Sports Hobby.
(ThyBlackMan.com) Game tickets are constantly on the rise and club fees keep going up. Maintaining a keen passion in sports is becoming much harder for those living on a budget. However, this shouldn't be a reason to abandon one's love of sport altogether. There are several creative ways to stay involved – here are just a few.
SPORTS CLUBS:
Buy used equipment
Going second-hand can save money in all areas of life. This includes sports equipment – although there are various dos and don'ts to consider before buying.
The condition of second hand equipment is important. If it's too worn it might break easily and then you'll be buying new equipment in a week's time. Some second-hand equipment such as safety gear might be so worn that loses its safety properties.
In all cases, you want to be able to see the condition before you buy. When purchasing online always make sure there is an image attached (asking the seller about previous use can also be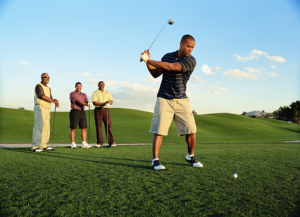 worthwhile). Facebook Buy and Sell pages can be ideal for buying used equipment online locally – you can meet up in person and then inspect the equipment before you buy.
There's a lot of practically brand-new equipment out there that may have been bought by someone who quickly abandoned the hobby. Look out for such equipment as it's here you're likely to get a bargain.
Buying second-hand may not be appropriate in all cases and it's well worth looking out for discounts and promotions on new equipment in stores. Some may also come with warranties – something that you won't get on second hand gear.
Bulk-buy
If you can buy sports equipment in bulk, you'll save a lot of money. If you've just joined a new team or club and lots of people need equipment, it could be worth recommending this to your coach. Alternatively lots of you can team up and buy together.
For maintaining kids' hobbies, teaming up with other parents to bulk buy equipment from a wholesaler can be worthwhile looking into.
Consider league loaner schemes
People regularly leave and join sports club on an annual basis. This has spurred some clubs on to adopting league loaner schemes. When people join, they hire equipment. When they leave, they give it back and it goes to someone else. The club owner can keep hold of all the equipment themselves preventing stuff from getting lost. This is a popular strategy with lacrosse teams. Recommending such a strategy to a coach could be worthwhile for keeping the cost down – especially if you're starting a sports club that you're not sure you're going to keep up.
Spend out of season
The end of sports season is the best time to buy equipment when the demand isn't high and sellers are doing anything they can to increase sales. Outdoor equipment is likely to plummet in September/October time when the weather drops. Similarly, ski equipment and winter sports gear gets slashed in price from May onwards. There are certain exceptions where you may find killer deals. The likes of Father's Day, Black Friday and the January Sales are likely to see massive reductions on all sports equipment regardless of season. You may also find certain deals late into a season where a retailer may have overstocked an item only to find it wasn't so popular after all and is now trying to shift it from the shelves.
GAME TICKETS:
Buy game tickets from reputable dealers
If playing sports wasn't costly enough, watching them brings on whole new added expenses. Major league games in any sport are always going to be pricy, but some online ticket touts really will try to rip you off. This has lately become more and more of an issue both in sports and music, with buyers hoarding tickets and then selling for sometimes ten times their value.
When buying tickets online, always check that they're from a reputable source. Many tickets will come with venue and seller information such as these Chargers Tickets at Barry's. A faceless seller on a site such as Amazon or eBay may not provide such details and you could end up with an overpriced ticket for a seat that you were told would be somewhere else – or even worse a fake ticket. Make sure in all cases you have contact details and always get a receipt.
Don't always opt for the big games
There's nothing like the atmosphere of a big game between major league teams. And if you live in a big city such as New York, you may be tempted to see the big teams such as the Giants and the Yankees at play. However, these games are going to require spending a lot of money.
Why not try watching a minor league game for once? These games can be great places to spot the future of tomorrow, serving as farms for the big teams. You may be surprised by the quality of play and you'll save yourself a lot of bucks.
There are other events too such as training camps and pre-season workouts that can be just as exciting but much less costly. These events allow you to see all the players in your favourite big team in training. Teams such as the Seattle Seahawks charge only eight dollars for registering up to watch a practice session, whilst other teams have allowed spectators to watch for free.
Another type of event to look out for is charity events. These sports events will often get most of the funding from corporate backing allowing them to charge much more reasonable rates. Champion tours in golf famously do this and are very affordable as a result.
GYM MEMBERSHIPS:
Make use of free trials
For those sports lovers that are also keen gym-goers, the gym can also leave a huge mark on one's wallet. One method of cutting costs is make use of free trials. Most gyms will offer these, often lasting somewhere between three days and two weeks depending on the gym and the trial that you sign up to. By being sneaky, you can make use of multiple gyms' free trial periods and get a couple months of free gym usage.
Some places will automatically sign you up at the end, so look out for this. Also be wary of initial payments that may proceed a free trial.
Quite often touring different gyms can help you to decide which is the best gym for you in your area. Personal trainers may also provide free tasters sessions, which may be something to consider if you're looking to improve your exercise regime.
Look out for promotional deals
There are all kinds of sites such as Groupon and LivingSocial that regularly post coupons on gym memberships. These may provide you with a discount or a free trial. Gyms themselves may also post coupons and promo codes on Facebook and Twitter. Follow all the local gyms in your area in order to keep your nose out for such deals.
Insurance providers, warehouse clubs and automobile associations can also occasionally offer discounts on memberships. Such companies often have affiliate schemes in places that can get you discounts on all kinds of services. Ring up the companies HR department and find out if such a deal is in place or could be arranged.
Family discount deals are also worthwhile if everyone in your household is eager to get into shape. Gyms are often willing to offer package deals on multiple people joining up. Even if you're family aren't interested, a group of friends might be up for signing up to a scheme with you.
The end of each month can also be a good time for negotiating deals. This is because some gyms will have a quota which requires them to sell a certain amount of memberships per month. If the gym hasn't met their quota, they may be more eager to offer a discount.
Pay for what you use
If you're not a regular gym goer, you may find it cheaper to pay on each individual visit. Some bigger branded gyms won't offer this, but smaller independent ones might.  
If you find you're not using certain facilities, you may be able to cut these from your membership deal. These could include free use to the swimming pool and sauna or discounted use of exercise classes.
On some occasions, you may be able to get a discount on when you visit the gym. If you're using facilities during off-peak hours only, some gyms may feel that it's okay to lower rates to make up for this. Again this is probably more likely to work when dealing with a smaller independent gym, but negotiating in all cases never hurts.
Staff Writer; John Poole