What To Wear, No Matter What The Date.
(ThyBlackMan.com) We all know that the start of a relationship is always the most treacherous part. Success or failure seem to depend on such trivial things, like what you're wearing. And so the decisions you make before a date can be make or break.
This all adds to the stress of the whole occasion, of course. We've all had last-minute panics about our choice of clothing. But unless you wheel yourself out there onto the dating scene, you'll be living with your roommates forever. So it's time to bit the bullet and go on a date.
What To Wear On Chill Dates
Chill dates, ironically, are actually among the hardest to dress for.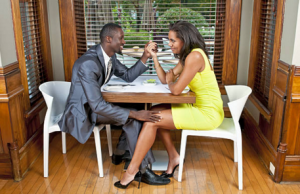 You don't want to go too smart, for obvious reasons. But going in a dirty tank top probably isn't going to get you the result you want either.
According to the Style Guy at GQ magazine, men should wear boots on chill dates. The chances are that she'll be wearing high heels, and so the last thing that you want to do is to have her towering over you. Boots help give you a little extra height, as well as a little extra presence, without making your outfit appear too formal.
Anthony Green, the Style Guy, says that if you look good, you'll feel good and – most importantly – "play good."
What To Wear On Afterwork Drinks Date
The opening line to many date invitations is a simple question: "coffee?" It's a question that's code for "I think you're really hot," and everybody knows it.
Dressing for an after work drinks date, however, is fraught with sartorial concerns.  The first is what your date will think about your work attire? Chances are, she won't like it, especially if you haven't thought about it in detail before. A custom suit is essential. Poorly fitted suits not only make you look unprofessional, but they're also pretty unflattering. You'll also want to make sure that your belt matches your shoes and brings the whole outfit together. Finally, if the weather is cold, you'll need a coat. Long coats, tailored to your physique create the best impression.
What To Wear On Brunch Dates
Brunch dates are perhaps one of the few types of dates where you don't need to get completely stressed out. In fact, on a brunch date, you'll probably want to dress down. After all, she's going to feel pretty bad if she's got a hangover and you're looking sharper than a razor.
According to Green, men can wear sweatpants, caps and even sunglasses on brunch dates. There's no need to whip out the suit, tie, and cufflinks, he says. If you've got the physique for it, go with a simple T-shirt and trainers. If you don't, stick with a loosely fitted shirt.
What To Wear For A Romantic Dinner
Sometimes, there's no escaping the romantic dinner. And romantic dinners usually take place at posh, romantic locations. There's no getting around this one. If there was ever a chance to dress up, this was it. Put on your sharpest suit or tux and enjoy the food.
Staff Writer; Randy Sanders