The top five sports stories of 2016.
(ThyBlackMan.com) The year 2016 was an incredible year for numerous reasons. The election of businessman and former reality star Donald Trump as the U.S. President was one big reason but there were several stories within sports that made 2016 very unique. There were political stances taken in sports, notable deaths by prominent sports figures, and rare occurrences on and off the playing field. Here are the top five sports stories of 2016, starting at number five.
5. Historic Super Bowl appearance for the Carolina Panthers- The Carolina Panthers lost Super Bowl 50 to the Denver Broncos but that doesn't mean that they didn't make history. Their 15-1 record was extremely impressive by a team that featured a black starting quarterback in Cam Newton and a Latino head coach in Ron Rivera.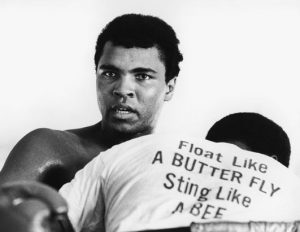 It is rare for a sport like the NFL to have minorities in the two most visible leadership positions on a NFL team. The 2016 NFL regular season hasn't been good to the Panthers but that doesn't detract from the history Newton, who also won the 2015 NFL MVP, and Rivera, who won the 2015 NFL Coach of the Year, made.
4. The Donald Trump phenomenon invades sports- The 2016 U.S. Presidential Election was the biggest news of 2016 and even had an impact on the sports world. Buffalo Bills head coach Rex Ryan spoke at a Donald Trump event during Trump's campaign, which didn't endear him to some of his players. Trump's videotaped comments about women from 2005 ignited a discussion about what constitutes "locker room talk" within male sports locker rooms. Following the election of Trump as U.S. President, athletes like LeBron James have taken actions to show they do not support Trump and there are questions about athletes visiting the White House as they traditionally do following a championship season. This will not go away anytime soon.
3. Colin Kaepernick takes a stand- San Francisco 49ers quarterback Colin Kaepernick was once most known for leading the 49ers to a Super Bowl appearance against the Baltimore Ravens in Super Bowl 47 but that changed dramatically in 2016. During a 2016 NFL preseason game, a reporter asked Kaepernick about sitting during the National Anthem prior to the game. His response was powerful and thought-provoking, ""I am not going to stand up to show pride in a flag for a country that oppresses black people and people of color". He also mentioned that his decision was also based on the police murders of black people.
Kaepernick's decision quickly gained national attention with him being called a hero, coward, traitor, and patriot based on who was discussing him. His actions led to athletes of all ages, including children, college, and professional athletes taking similar protests throughout the country. Colin Kaepernick has shown fearlessness in his decision by continuing his protest throughout the 2016 NFL season despite accusations of hating America, disrespecting the military, and other insane accusations. He even was on the cover of Time Magazine for his actions.
2. 2016 Summer Olympics proves to be historic- The decision to have the 2016 Summer Olympics in Rio de Janeiro, Brazil was questionable regards to the Zika Virus controversy and being able equipped to hold an event of that magnitude with some of Rio de Janeiro's issues. Those issues did not prevent history from being made throughout the Olympics. Stereotypes about black women athletes were shattered throughout the 2016 Summer Olympics led by two athletes named "Simone". U.S. swimmer Simone Manuel became the first African-American woman to win an individual Olympic swimming medal and U.S. gymnast Simone Biles earned five medals in Rio, which included four gold medals.
Her excellent skills have many considering her the greatest gymnast of all time. There also terrific performances by athletes like American shot putter Michelle Carter, who became first U.S. Olympic women's shot put gold medalist, and U.S. sprinter Allyson Felix, who is tied as the most decorated track and field female athlete ever with nine total Olympic medals after her performances in Rio. Those athletes were various in their athletic abilities, skills, and talents and showed that black female athletes do not look a specific way. On the men's side, the headliner was Jamaican sprinter Usain Bolt who is one of most decorated Olympic sprinters ever with nine Olympic gold medals. The U.S. men's basketball team also continued the legacy of resurgence with another gold medal as did the U.S. women's basketball team.
1. The passing of Muhammad Ali- There were significant deaths during 2016 including musical giant Prince and while the sports world mourned the passing of numerous sports luminaries, few people in history could compare to the passing of Muhammad Ali in June 2016. Few people in history transcend sports but Muhammad Ali did exactly that. While Colin Kaepernick is considered bold for his actions and words in regards to his protest, many feel he was inspired by the bravery, demeanor, and courage displayed by Ali throughout his life. Muhammad Ali is known as "The Greatest" boxer ever and among the best athletes ever for his incredible boxing ability, his intelligence and toughness in the ring, his physical power and quickness to overwhelm his opponents, and his outspoken nature about his abilities. However, Muhammad Ali became as known for his work towards black liberation, his unbridled passion for being a Muslim, his anti-war stance, and being a social activist than any of his incredible accomplishments in the boxing ring. His legacy will live on forever.
Staff Writer; Mark Hines