Sexual Health for Singles: Helpful Hints for Having the Sexual History Conversation.
(ThyBlackMan.com) Unless two people are absolute virgins when they meet, they should sit still for a few minutes and have "the conversation" prior to hopping into bed together. It's not a pleasant thing to think about, but facts are facts, and STDs are commoner than you might think. If you're going to engage in adult behavior, it's imperative that you act with at least a modicum of maturity. Part of that maturity involves open communication with any and all sexual playmates you encounter.
What are STD and STI
According to Mayo Clinic, Sexually transmitted diseases (STD) and sexually transmitted infections (STI) are the same thing with different acronyms. Both terms refer to infections and diseases that are spread by way of sexual contact. Not all STDs are transmitted via sexual activity, however. A number of so-called sexually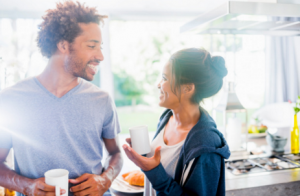 transmitted infections can be spread via blood transfusion, shared needles and the birth process.
Among the commonest STD are gonorrhea, chlamydia, syphilis and hepatitis. These are not the only diseases that can be transmitted by sexual contact, however. HIV is a dangerous disease that does not have a cure as yet. HPV and genital herpes are other STD infections for which there is currently no effective, long-lasting cure.
How to start the STD conversation
Relationship experts at Psychology Today recommend finding (or making) the time to talk when neither partner is busy or distracted. When there's a football game on TV, it may not be the right time or place to broach the topic of sexual history. Keep the mood positive, and never express alarm or disgust at the number of previous sexual partners either of you has had. Accept the information offered by your potential sexual partner with grace, dignity and humor.
US News notes that the pre-sex talk doesn't necessarily have to happen in person. In fact, it may be easier to start the conversation while chatting in a private message or texting on the phone. Starting the conversation and honestly communicating is far more important than the set and setting of "the talk." Because the STD conversation is so imperative to good health for both partners, anonymous sexual encounters are not recommended.
Things to mention during The Talk
If you're intimate enough to consider sexual relations with another person, you should feel comfortable enough to broach the subject of sexual history with them. Conversely, if you are too shy to mention condoms, request testing or to reveal a prior STD infection, you may wish to totally reconsider whether to begin a sexual relationship at all. Sex is, after all, a sophisticated form of human communication that works best when both partners are able to be completely open, candid and honest with one another.
Sexual history doesn't need to divulge every detail, but it is crucial that you advise your partner of any hepatitis, gonorrhea, genital warts or other STD you have ever been exposed to.
How to prevent sexually transmitted infection
The most effective way to eliminate the risk of STD infection is to eschew sexual contact altogether. But, as you probably know, complete abstinence is not a realistic solution. Knowing one's own body, recognizing symptoms and seeking medical help at the first sign of STD are far more effective methods of reducing sexually related infections.
Symptoms of STD may include sores on the genitals or around the mouth. Painful urination and penile discharge are also symptoms of STD, says Mayo Clinic. Foul-smelling vaginal leakage, abdominal aches, unusual bleeding between periods, and painful intercourse are other signs of sexually transmitted infection.
If you think that you or your partner may be infected with any sort of STD or STI, please make an appointment with a doctor or visit an STD testing center without delay. The sooner you are diagnosed, the sooner you can receive treatments to alleviate symptoms and treat the infection. The worst thing you can do, as far as your own health is concerned, is to feel too embarrassed to visit a clinic to be tested and treated for possible infection.
Lovemaking, sexual intimacy, or hooking up as "friends with benefits" can be a beautiful thing, but sex is fraught with danger, too. Do your best to reveal your truth with humor and grace, and you may be well on the way to forming a blissful interpersonal relationship that can last a lifetime. If not, you'll at least reduce your risk of becoming infected while enjoying a hot weekend with a special someone.
Staff Writer; Charles Burton