'Five' Ways to Entertain Your Child on a Budget.
(ThyBlackMan.com) Kids are expensive by themselves.  They need to eat, be clothed, and have sufficient shelter.  If you add those things up, you may feel like you need to be a millionaire just so you can live comfortably.
Depending on the age, your child's food bill can vary.  It goes from them having their own special diet of baby food for infants.  To the older ages where they get picky or they start to eat you out of house and home.  I don't want to get into the times where you are on a special diet to get back into shape and you can't have the pizza you ordered or the fries you made.
Of course, they need clothes, right?  Well, baby clothes are inexpensive but because they are constantly growing, your wallet is constantly shrinking.  I know you wish you could rent clothes according to their development.  Trade the toddler small for a young boy's small when it is time.
But that isn't how it works.
You have those pair of shoes your child only wore one time sitting in their closet.  You have those "special event" pair of pants that was needed for their school play.  You have that coat that was worn once because it was ripped, lost, or some unerasable paint was spilled on it at school.
The way you think about housing and shelter is totally alt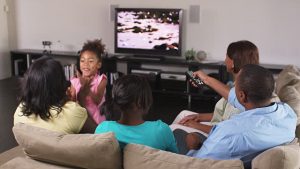 ered when you have a child.  You must consider MORE SPACE.  You may be able to survive in a one-bedroom initially, but eventually, you will want and they will need their own space.
You can't yell, "Go to Your Room", without them having a place to go.  With their own room, they need their own bed and decorations to their liking.
I think I should have ended all the sentences with $ instead of periods.  I definitely could do that when it comes to entertaining your child.  It gets expensive entertaining your child.  I'm pretty entertaining but my even my act gets old so I need back up.
So here are 5 Ways to Entertain Your Child on a Budget.
Movies at Home
Kids love the movies.  Even us parents, enjoy a good movie outing.  Until we see the prices of the tickets and snacks.  A movie outing can average around $50 by the time you buy tickets for you and your child plus snacks.  Some eat before or sneak snacks in but why go through that?
Set up your home as a movie theater.  Popcorn at the local grocery store is much cheaper.  You can even buy the kernels and cook them, to make it more "official".  It's just as exciting except you save on gas, the price of admission, and theater snacks.  Utilize apps, DVR, live TV and/or renting movies at your local grocery store.  Trust me, you will save money and you can become creative.
Play Restaurant 
Going out to eat is expensive and most of the time, the kids order the same thing.  Chicken fingers, fries, mashed potatoes, burgers, macaroni and cheese, etc.  Why are we wasting money for the things we have in the house already?
There is a game that I learned growing up called "Restaurant".  My sister and cousin used to turn our home into a restaurant.  They looked in the refrigerator and created a paper menu for me to order from as the guest of honor.
This is something I have done with my son and his friends on several occasions.  I create the menu and he/they gets to order an entrée.  This not only saves me money but it also helps me to teach him/them proper etiquette when out at a restaurant.  It gets pretty fun as you can try new recipes you learned from the internet or you get to practice your cooking skills on the kids.
Pets
Kids love pets but don't realize the costs and responsibilities of owning one.  Alternatives to owning a pet include but aren't limited to taking your child to the local shelter, pet store, or a type of petting zoo.  This may not stop their desire to want one of their own but helps prolong the purchase.
My son asked for a dog once and I explained to him all of the responsibilities and expenses that come with owning a pet.  He retracted his request and said he wanted to "rent a pet" for the summer.  I thought that was pretty funny.
Park Exploration
Kids need exercise, creativity and variety.  They need to get out of the house and away from the video games.  One thing I used to do every day after school was to take my son to different parks and playgrounds.
He absolutely loved it and looked forward to it.  Where was the new park going to be?  What new slide was he going to try? Will this one have swings? Who will he meet this time? Imagine the thoughts running through his head and how exciting it is for him.
This earns major points for Dad.
Apps and Research
There are tons of apps that you as a parent can download for discounts and free child-friendly activities.  Museums are free, there may be live shows in the area for children and families, the Zoo is free, just to name a few.  Back to the apps, I have a few favorites that I like to use but there are two I personally use and they Groupon and Goldstar.  They have activities it has for adults and kids.
There are tons of other ideas and I hope these help.  Every dollar counts!
Staff Writer; Paul Williams
One may also visit this brother online over at; http://BasheaWilliams.com.
Follow him also on Twitter; BW and Facebook; B. Williams.