Beyonce pregnant again, 2015 a belly bump shall be true.
February 27, 2015 by Staff
Filed under Uncategorized
(ThyBlackMan.com) To be or not to be—pregnant again… That is the question the world wants answered, when it comes to the power duo of Beyonce and Jay-Z. Is Beyonce pregnant? During fancy events with piercing eyes, and at sold out shows, as well as on social media, we get speculation that a baby might be in the oven.
However, Beyonce being pregnant is a bit of a game of "clue," and Jay z is dropping hints, On September 12th Jay-Z gave us a little more ( as he is known to do, hence, Blueprint 1, blueprint 2, blueprint 3, blue ivy and now a public announcement. " Cause she pregnant with another one " was the l infamous lyric Jay-Z replaced for "if the oven's on" in his song Beach is Better.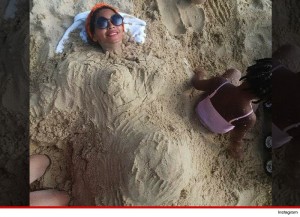 Now, because the world has been gossiping back since early June when Beyonce was seen walking the Met Gala red carpet with what appeared to be a baby bump, Jigga can be joking. Neither of the two have came out to say that Beyonce is pregnant, but her belly bump speaks the loudest.
So what do we believe? Do we take Jay-Z seriously; he is a friend with Kanye who showed his sense of humor publicly at the Grammy's when he pretended to interrupt Beck's award speech.
On the other hand, if Beyonce were pregnant, who else would have the honor to make the announcement other than Jay-Z. Well, regardless of their indecisiveness to confess to the world about Blu's new sister, we'll find out within these upcoming 9 months. The stans await such great news from the Queen herself.
Staff Writer; Helen House