Eminem: Then And Now.
(ThyBlackMan.com) Born in Detroit, Michigan Eminem didn't exactly have an easy life growing up. By the time he turned nine he had been through more than most children. At that tender age he landed in a coma after a schoolyard bully beat him up.
As he got older his life continued to deteriorate. During his teenager years he was shot and had to endure three years of the ninth grade just to get promoted to tenth grade. Kim, the mother of his first born daughter and the woman he considers to be his muse, came into his life when he was just fifteen years old. She was two years his junior.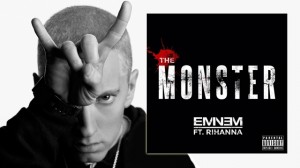 His life continued to be complicated as, at the age of 20, the police arrested him for using a paint ball gun to shoot a patrol car.
Though as a child, Eminem's first career aspiration was to be a comic book artist as he got older the Beastie Boys were his inspiration for pursuing a career as a rap artist. Over the past 17 years Eminem has participated in collaborations with artists such as Busta Rhymes, Snoop Dog, Dr.Dre, Lil Wayne, Nate Dogg, Kidd Rock and 50 Cent among others.
Eminem's last album was the Marshall Mathers LP2, which he released in November of 2013. It should be noted that the second album he ever released was Marshall Mathers LP which was called Amsterdam before the album name was changed. His first album has the distinct honor of being the one hip hop album that sold more than any other in the world in that genre. Infinite was released in 1996 and by 1999 the Slim Shady LP came out. Marshall Mathers LP2 went platinum even amid controversy that the album eluded to homophobia.
After a 2005 tour Eminem took time off. Four years later he released his next album, titled Relapse, followed by 2010's Recovery. This album went on to become the best -selling album of the year. Recovery and Relapse both earned Eminem Grammy Awards. In total he has won 13 Grammy Awards for his work.
As of now Eminem's albums have sold roughly 115 million throughout the entire world. He has also seen 120 million sales of his single tracks. On the Billboard Top 200 Eminem has seen 10 of his albums reach the number one spot. Of all the recording artists who worked during the early years of the 2000 none of them outsold Eminem. This earned him a ranking by Rolling Stones magazine as number 82 of the 100 greatest artists ever. Rolling Stones magazine also gave Eminem the title of "The King Of Hip Hop."
In addition to recording music Eminem owns his own record label and radio station. He has also acted in movies and starred in 2002's 8 Mile. He followed up his movie roles with a cameo on The Entourage.
Only time will tell if Eminem's career continues to flourish of if his glory days are over.
Staff Writer; Greg June