Nicole Beharie, A few Facts about the young successful Black American Actress.
May 29, 2014 by Staff
Filed under Uncategorized
(ThyBlackMan.com) Nicole Beharie is a black American actress who showed immense interest and passion for acting while still at a tender age. She was born in 1985 to a West Indian mother and a Foreign Service father. Nicole spent most of her childhood moving in different countries due to the nature of her of her father's job.
She attended the Orangeburg Wilkinson High School and later on joined the South Carolina Governor's school where she graduated with a degree in Arts and Humanities in 2008. Nicole Beharie made history when she joined the prestigious Juilliard Drama School in New York City. This was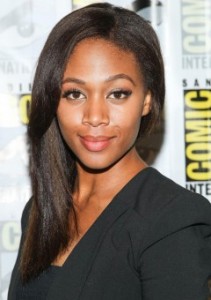 because she was the first student ever to be accepted coming from the Governor's School.
Academics, Scholarships and accolades
While still a student at Juilliard Drama School, she received the Robert Williams Scholarship through a unanimous vote from the drama faculty of the school. This prestigious scholarship gave her chance to study and train in England.
Nicole Beharie would then concentrate on acting immediately after her graduation. Her determination and strong urge for success enabled her to make her first debut as a lead actor in the film American Violet which was released in 2008. But this was just the beginning of the good things to follow. Her star continued to shine even brighter when she landed another role in the film The Express, which was also released in 2008. She played the role of Sara Ward alongside renowned actor Rob Brown.
But more acting roles were to come running after Nicole Beharie as she continued to act in different films. One of the notable ones being her role as Shay Hunter in the film Sins of the Mother. In this film, Nicole acts as a struggling University student who has a very strained relationship with her mother, Nona. She makes all attempts to mend fences with her mother so that they can enjoy the once great relationship they had before their differences drove a wedge between them.
In 2011, Nicole Beharie took a role alongside Ken Duken as an aspiring singer and song writer in the comedy film, My Last Day Without You. She also had the opportunity to record five songs that were later used as the soundtrack for the film. Not only did she record the songs but also recorded the title track's music video.
Nicole's big international break came when she starred as Mariana in the film Shame. In this big hit, she starred alongside Michael Fassbender. She received praises from different people for her excellent role in the film. For instance, Wesley Morris from the Boston Globe heaped praises on her performances describing her as a "Marvel of Natural Transparency".
Later in 2013, Nicole Beharie got a role in the fantasy series produced by Fox known as Sleepy Hollow. This series is based on an 1820 short story by Washington Irving. In this series, Nicole plays the role of Abby William and even though some parts of the series are yet to be released, it's already a big hit and it has developed a substantial number of followers. Many people believe that Nicole Beharie is behind the success that the new series is already getting.
It's only six year since Nicole Beharie launched her professional acting career and within this short span, she has managed to acclaim a great deal of success. We can then say that the sky will be the limit for this young ambitious black American actress.
Staff Writer; LadyK
Gossip/Ent. Tips and Feedback to; LadyK@ThyBlackMan.com