Hilarious Hipster App.
(ThyBlackMan.com) If there's one thing that everyone hates, it's a hipster.
Often spotted prowling city centre streets wearing the latest skinny jeans andill-fittingshirts, with a coffee in one hand and a dented iPhone in another in what they think is a 'cool style'.
They truly are a strange site to behold, wandering aimlessly around talking about how things are 'ironic' or 'cooler before they became mainstream'; you're never more than a few feet from one.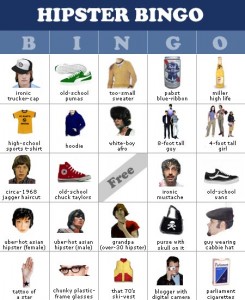 In an effort to show how hilariously awful the Hipster trend is one company has created their own bingo app based around these awkward individuals.
Developed by Auxi, the hilarious Hipster Bingo app features some of the iconic images of the Hipsters 'alternative' culture.
To play the game you simply have to photograph the various items that appear on the board in the real world as you come across them. Fully embracing the Hipster life style of taking 'ironic' selfies with various paraphernalia.
Items like Victorian moustaches, chequered shirts, trilbies, ridiculously long beards or the ludicrous deep V-neck t-shirts.
All of these ridiculous items are there just waiting for you to tick them off.
If you're struggling to find some of the items then never fear, there's an option to customise what kind of Hipster gear appears on your bingo card with either two premade lists or with one you created yourself.
Once you've filled in your cards you can text or email it to your friends to show off the types of trendy creatures that mingle around in your area.
So download this app and get snapping, just make sure you don't get caught taking photos, otherwise the Hipsters might demand your photos all be in sepia toned or something 'less mainstream'.
The Hipster bingo app is available in the Apple App store and best of all it's completely free.
The developer's website also has a variety of other Bingo games available. Although not a real Bingo site, Auxi has some fantastic games on offer.
From WALMART Bingo, Buzzword Bingo and the incredibly popular Licence Plate Bingo where players can tick off what licence plates they see, it's absolutely great for long and boring car journeys.
Or if you prefer something a bit more serious and substantial, why not check out some real bingo sites like this one www.bingosweets.com. There's an almost unlimited list of bingo games on the App store.
 Staff Writer; Lee Williams