Sampling in Hip Hop: Why it's so important to the genre.
(ThyBlackMan.com)  In my first 19 years of living, I had never, ever heard an Ahmad Jamal record. I once read he was a fantastic pianist and a stronger jazz composer, but that was just about as close to me being knowledgeable about him as a subject. I one day decided to take on the task of looking up how Pete Rock sampled one of my all-time favorite rap tracks, "The World is Yours" by Nas. It was here I not only discovered what he sampled (Ahmad Jamal's "I Love Music,) but I realized the importance of sampling in hip hop and how innovative it can be if used right.
Pete Rock took a portion Jamal's "Music," played the end of the portion he sampled and made it the beginning. This in turn, made the beginning of the portion the end. I thought it was amazing then, and I think it's amazing now. Pete Rock thought like a true musician, figuring out how to arrange a song so that it could be a catchy record. Just by using six seconds.  It was then that I discovered that sampling was an art, but also, sampling introduces a music audience to new musicians, songwriters, producers and so on, as it did for me with Ahmad Jamal.
While Kanye West maybe seen as the of-all-end-all of assholes in the music business, he is actually one of music's sharpest minds in terms of knowing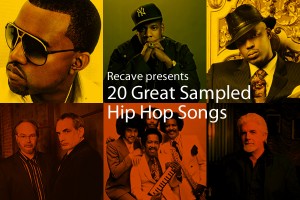 what direction he wants his music production to go. Since the start of his production career/first album The College Dropout, the root of his production technique was sampling and interpolating. It wasn't that he was just taking elements of well-known artists and songs; he broadened his spectrum over time by introducing his audience to little known songs/musical acts and turning them into hits and fan favorites.
The ARC Choir, The Whatnauts, Labi Siffre, Daft Punk, Prince Phillip Mitchell, Tears for Fears and Steely Dan all benefited from Kanye West sampling their music. Although hardcore fans of the musical acts mentioned and their genre may know their music and their style precisely, Kanye presented them to his listeners in hip hop fashion, to the point that if you looked up the Labi Siffre song "My Song" that Kanye used for his cult classic "I Wonder" on YouTube, you would see the comments alluding to the fact that Kanye West brought them to the song.
But it is common place for music fans to believe that sampling isn't really an art form, but more of a lazy way to produce music. While some songs are direct steals such as Will Smith's "Gettin Jiggy with It," P.M. Dawn's "Set Adrift on Memory Bliss," they still brought a new audience and relevancy to the artists that were sampled (Sister Sledge "He's The Greatest Dancer" and Spandau Ballet "True" respectively.) If "Between the Sheets" by The Isley Brothers were played at a younger generation get-together, they probably wouldn't have a clue what the name of the song is, or better yet the musicians performing. But they could definitely pick up "Big Poppa" by the Notorious B.I.G with ease.
This isn't to say that they are some young kids, who don't know their old music, (but let's be real, if Between The Sheets came on some kids would probably ask their parents who is singing.) I, personally, had no idea who Daft Punk was, or that they were extremely popular until Kanye West sampled them on "Stronger." Now, I'm actually listening to their latest albums. The New Birth's "Wild Flower" is now a personal favorite of mine thanks to it being sampled on Jamie Foxx's "Unpredictable" and Steely Dan's "Kid Charlemagne" gets regular rotation on my iPad thanks to it being used on Kanye West's "Champion."
Right now, the song that's being heavily talked about on blogs, twitter etc. is Kanye West "Bound 2" off of his new album, Yeezus. Of the three samples used, two samples stick out predominantly over the record; "Bound" performed by the Ponderosa Twins plus 1 and "Sweet Nothin's" performed by Brenda Lee. The lyrics sampled "Bound to falling in Love" from "Bound"and "Uh Huh, Honey" from "Sweet Nothin's" is now social media quotables'. Had the songs not been used, would we even known about Brenda Lee or the Ponderosa twins plus 1? Would we have known Lee is in Rock and Roll, Country, and Rockabilly halls of fame?  More and likely, probably not. Thank you, Kanye.
So to conclude, sampling in hip hop brings several elements to the table. One is innovation. Pete Rock, Kanye West and 9th Wonder are great at combining multiple samples and conjoining them to make a track. Two, it allows non-musically inclined producers to build upon a beat to make a polished finished sound. And three, it brings importance and significance to the musical act that was sampled. Sampling is a part of hip hop. Sampling according to some, is hip hop. Despite disgruntled musicians refusing to allow for their music to be used, sampling will, at the end of the day, give them more exposure (nothing's wrong with more exposure, right?) new fans, and greater appreciation for their music. Besides, sampling is extremely vital to hip hop's success. Just ask DJ Premier, Pete Rock and J. Dilla.
Music Editor; Brad Washington 
Also connect with this brother through Twitter; http://twitter.com/theGURO15.