Selena Gomez, Justin Bieber break up, Well At It Again!
December 26, 2012 by Staff
Filed under Uncategorized
(ThyBlackMan.com) Justin Bieber and Selena Gomez are one of the hottest and cutest young couples strutting around Hollywood these days. Justin Bieber is the heartthrob of nearly every little girl walking the planet earth and Selena Gomez has little boy's hormones running amuck.
Well regardless of the fact that every young boy wants to take Justin's place and some little girl somewhere on the planet would give just about anything to walk in Selena's shoes, word is spreading that their relationship is on the rocks once again.
Like other celebrity couples Selena Gomez and Justin Bieber are hounded by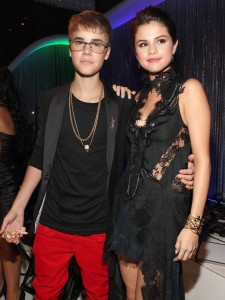 paparazzi and constantly in the public eye. Even with constant scrutiny from others they seem to be handling everything so far and taking it all in stride.
But when it comes to these two keeping their love life strong and intact that seems to be a whole different ball game. The pop-star power couple reportedly used to break up and make up all the time and according to RadarOnline one of their breakups was over Miley Cyrus. Can you imagine Justin Bieber trying to play little Selena Gomez.
According to an insider Selena Gomez is repulsed by Miley by one of Beiber's past acting partners.  Selena Gomez has also brought up other concerns to Justice Beiber in the past.  Supposedly old Justin Bieber at one time was continuously choosing work and other things over Selena Gomez and she's finally had enough." Wow they sound like a married couple."
These two go back and forth with one another like Kim Kardashian goes through black men and news tabloids. The young, teenie bopper on again, off again and then on again couple seems to be off once again. Just the thought about it is giving me a headache.
Justin Beiber and Selena Gomez also known "Jelena" have supposedly broken up for good. Again? Really? Say it ain't so.  There is ton of speculation as to what could have possibly gone wrong. Last week it was reported that Selena Gomez, 20, broke things off because she has "trust issues" with Justin Bieber and their hectic schedules weren't helping things either.
I just want to know this. If it's difficult for grown folks to keep it together and they see each other every day why do these young folks think they can make it work with not problems.
These two youngsters are just that, youngsters. Instead of going back and forth, crying tears, dealing with trusts issues and everything else that comes along with trying to maintain a relationship why don't Justin Beiber and Selena Gomez just enjoy one another.
They are both still very young and they have their whole life ahead of them. They should concentrate on themselves, making good music, great movies and stacking up a big ole bank roll.
Staff Writer; LadyK
Gossip/Ent. Tips and Feedback to; LadyK@ThyBlackMan.com