Wiz Khalifa & Amber Rose Pregnant: Marital Bliss.
December 4, 2012 by Staff
Filed under Uncategorized
(ThyBlackMan.com) It was just announced that Wiz Khalifa and his pregnant girlfriend Amber Rose will be getting married before their baby is born and before the year ends. If you have been following the two –they have been on a ride that we can only dream of in the world of hip-hop and rock. This was one of the best stories to report on in hip-hop this year.
No one in their right mind would have thought that these two would be getting together. But, they did and have been on point since being together. Amber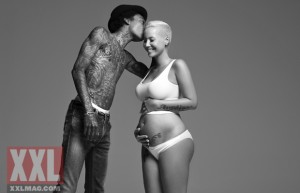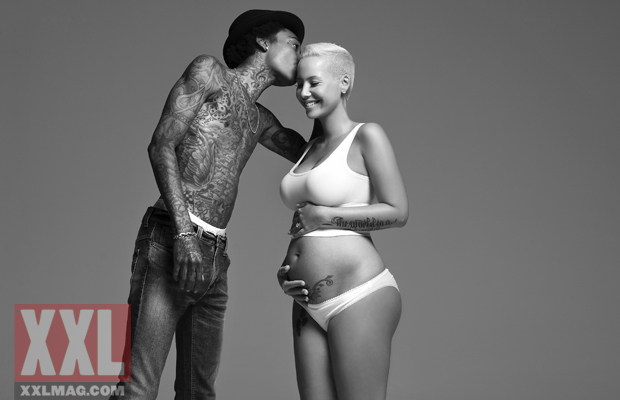 Rose is very pregnant and still chooses to wear skin tight clothes at times that look very disheartening as it relates to pregnant moms.
Amber Rose still rocks it though and stays close to her man and out of the public eye for what it is worth. It is one thing to call her a gold-digger in one sentence and a beautiful one in the next. This is how I feel at this moment and then again I don't. I think that she really loves Wiz and they will have a great family.
I think Amber Rose needs a job though—just like these other entire hip hop wannabe's and that is a REAL job folks (8-5). Maybe she will get one once the baby is born –who knows and do you really care? When writing about this couple it seems like Wiz Khalifa has trained Amber Rose in the way that she should be seen and heard in society. Since getting with the star rarely have you heard anything negative about their union, the baby, or their creative sides in a bad way? I think that Amber Rose is happy too and so is Wiz.
Scrolling through their Tumblr pages that they have together you can see that these two were made for each other and are definitely in love. It is rather different when you look at other hip-hop couples. These two were truly blessed to find what they have which is very rare today.
Additionally, Amber Rose tweeted that she is carrying baby boy –which we all know Wiz Khalifa is totally happy about this and then some. It has been almost a year since the reports have ceased with regard to her former relationship with Kanye West. Thankfully, she got away when she could and kept on going. Perhaps she did a search for her new beau and channeled him in with the gods of the love and happiness.
Wiz Khalifa will tell it like it is and keep it 100%. Wiz Khalifa is also one of hip hop shining stars at the moment. This love triangle shall continue to play out before our eyes. Like it or not Wiz Khalifa & Amber Rose is the it couple of Hip Hop!!
Staff Writer; atlas brown
Send More Hot Ent. Tips & Gossip info to; AtlasBrown@ThyBlackMan.com