Amber Rose Pregnant & Wiz Kalifah Baby Rosebud.
October 25, 2012 by Staff
Filed under Uncategorized
(ThyBlackMan.com) Amber Rose and fiancé Wiz Kalifah reported to the public a few months ago that they were not going to have a baby. Fast forward –they are now having a baby. Amber Rose is now pregnant according to her camp. She has transitioned into a beautiful mother-to-be and is making headlines everywhere with the pictures released by her media team regarding her pregnancy.
Back in the day it was known that Amber Rose was bi-sexual –today she is touching her Rosebud (nickname given to the baby by the couple) in every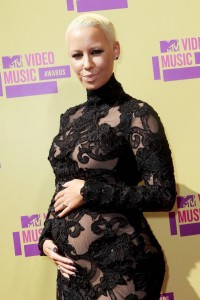 picture online as if she has wanted to be a mother all along. We have all seen her rise to the top via her relationship with Kanye West and now with Wiz Kalifiah.
I will not sit here and say that I think that she will be a bad mother or she has mental issues with fame. Amber Rose has shown quite the opposite. Once her relationship ended with Kanye West, she went back to the drawing board and continued to expand her modeling brand. Then she met Wiz Khalifah and the rest is history. I honestly feel that they compliment each other.
When I heard that Amber Rose was pregnant I smiled. She really is a pretty woman. I have no idea what she will be like as a mother. But, I do believe that Amber Rose is going to the best to keep her baby out the limelight and raise them right if she is going to be standing by Wiz Khalifah's side.
You and I both know that Wiz Khalifah is one of the smartest rappers in the game and represents his brand to the utmost and will not stand for crazy stuff going on that will put him in a bad limelight. Yes, Amber Rose is going to marry a green-smoker, but it has been reported that Wiz Kahlifah can't smoke in the house that they have together. This goes to show that Amber Rose is going in the right direction in regard to raising her baby.
Regardless of your feelings about her career and beau choices, Amber Rose is going to continue to command attention. As of late, she has stepped out on the red carpet a few times and looked very happy –the entire point.
Staff Writer; atlas brown
 
Send More Hot Ent. Tips & Gossip info to; AtlasBrown@ThyBlackMan