Snoop Dogg Gives Parenting Advice.
(ThyBlackMan.com) "My kid's can do whatever the hell they want." Not my words, but the words of Snoop Dogg, Snoop Dogg Lion, Snoop Lion or whatever he is going by these days.
A few days ago a picture surfaced of Snoop's oldest son, Corde lighting up the ganja with his dad. So what now a family that smokes together stays together? Well I suppose so in the Snoop household.
He's helping his 18 year old to pursue a career as Spanky Danky, Spank being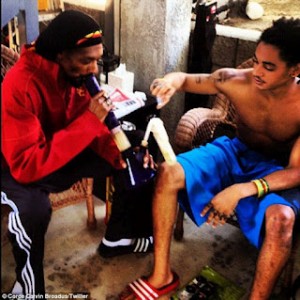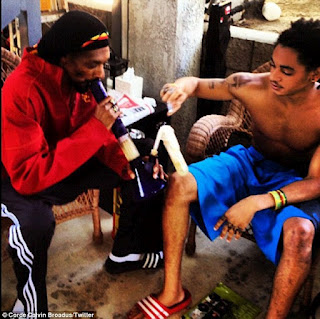 his nick name. Spank's song titles are Rollin, Rollin, Rollin … Stoned, California Gs and Commemoration of Vaporization. Okay I got it he's keeping it all in the  family.
Snoop Dogg explained to The Hollywood Reporter his rationale behind his parenting choices. "What better way to [learn] than from the master?" Snoop Dog is referring to photos that were posted on Twitter by his son Spank, showing his son lighting his father's bong.
http://www.hollywoodreporter.com/news/snoop-dogg-son-pot-obama-marijuana-374384
Snoop Dogg has stated, "My kids can do whatever the hell they want."  He went on  explain his parenting philosophy. "For me to say otherwise would be hypocritical. A lot of motherf—ers don't have a relationship with their kids, and that's when they get on drugs and have suicidal thoughts and drive drunk. Me and my son is mellow. I'm his father, so I wanna show him the proper way because he looks up to me."
Snoop Lion has also said "Go to Amsterdam or the Netherlands where it is legal and you see that the crime rate is nonexistent, the murder rate is probably under 10 percent, people learn to get along! There are people riding on bicycles being happy." — Snoop Dogg aka Snoop Lion
I'm sorry I might be alone on this one.  I am not trying to be my child's friend and buddy. I'm his mother. I carried him for nine months. I cloth him, I feed him and I'm the one missing days from work when he gets sick. So sorry my lovely son we are not on the same level.
How can a child truly respect his or her parent if they are getting high together? Parents we need to be parents, We are here to raise and nurture our children to be their best. Allowing them to blatantly break the law on social media is not the way.
This may come across as criticism to some, but it is what it Is and no I am not Spank's mother. But as African Americans we have enough to contend with and our young black boys have to deal with even more. 
Snoop Dog has never kept it secret that he loves weed. He has been known to uphold the attributes of marijuana and its use.  Even though he's been busted numerous times this has not stopped his indulgence.
Snoop Dogg looks forward to the day marijuana is fully legalized. Well Snoop you might not want to sleep on that one. I don't see that happening any time soon.
Staff Writer; Eleanie Campbell
Also connect via Facebook;
ThePU
.