Boycott Nike's LeBron James, Lebron X Sneakers.
(ThyBlackMan.com) Nike, being the marketing geniuses that they happen to be, are always testing the limits of our collective ignorance.  The new LeBron X sneaker being released by Nike will take the company to the mountain top by charging a whopping $315 for a pair of plastic sneakers that probably cost just a few dollars to make in some third-world sweatshop. Forgive me for sounding like a hater, for I respect LeBron James immensely.  But the fact is that this is simply pathetic.
Of course, the routine will be the same:  Kids will be convinced that they have to have these shoes by any means necessary, they will line up around the block at 6:30 in the morning on the day that the shoes are released in order to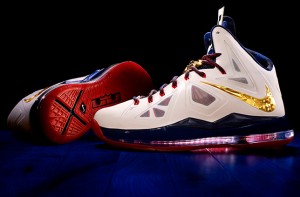 spend their last few dollars buying a product that will be damn near worthless just a few months from now.  
We wonder why black people stay broke, while we remain silent about corporations that pimp us all the way to the poorhouse.   There will surely be plenty of newscasts about black teens who've shot each other over a pair of shoes or some 17-year old single mother who left her baby in a hot car all day so she could spend money on sneakers that she would never spend on an educational program.
And you know what?  Nike won't give a damn.  In fact, they're not supposed to care, since capitalism doesn't have any room in the bottom line for human compassion.  It only focuses on corporate greed and maximizing the wealth of the company's shareholders.  If you can squeeze another nickel out of the consumer and convince him to spend the last few cents of his welfare check in order to buy your product, then that makes him the sucker, not you.  I know this well, I'm a Finance Professor.
Nike should be ashamed and so should LeBron James.  LeBron James, a team player with humble beginnings, should be the first to head into the next board meeting and say "Enough is enough.  You can't charge that much for my shoes (other athletes have done this in the past)."  Perhaps it means that Nike only earns $200 million instead of $400 million, but some lives and financial livelihoods might be saved in the process.  Also, it's the right thing to do.
In my humble opinion, all of us should be vocal about boycotting Nike's new sneaker.  Of course, most of the people reading this article aren't going to buy the shoes and won't be buying them for their kids.  But that doesn't mean that we can't communicate to one another via social media that Nike's move is highly unethical, and that we are disappointed in the company for exploiting urban America in such a vicious and myopic way.   
I don't care if they hold some charity basketball event in the hood, give away a few toys at Christmas or pass out turkeys at homeless shelters.  The oldest corporate trick in the book is to take a billion and give back a million, since we are all dumb enough for fall for the gimmicks.
Remember – Nike sneakers are only cool because black people validate them.   It's time to start speaking up against this nonsense.  In a world where everyone seems to worship the dollar bill, perhaps we can remember that there is nothing wrong with encouraging companies to do the right thing.
Staff Writer; Dr. Boyce Watkins