Jeremy Lin It For The Money.
(ThyBlackMan.com) Jeremy Lin's Cinderella story continues on but nit in the city of bright lights, not at the World's Most Famous Arena, not where it all began in New York City. The former New York Knick over night sensation turnover prone "not really a point" guard signed a three year contract with the Houston Rockets for $25 million with almost sixteen of that total due in the final year. I don't want to bore you (or myself) with dull contract numerology but that back loaded contract was the straw that broke the Knicks back. With the league's highest paid front court consisting of multi-millionaires Carmelo Anthony, Amare Stoudamire and Tyson Chandler (all who would be under contract during Lin's three year deal) the team found it very difficult to pay $1.50 per million of luxury tax for all three of those players PLUS Lin.
The potential to make billions off of the league's sole Asian-American guard did not seem to be a major factor either. In my opinion I believe this decision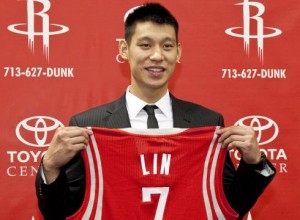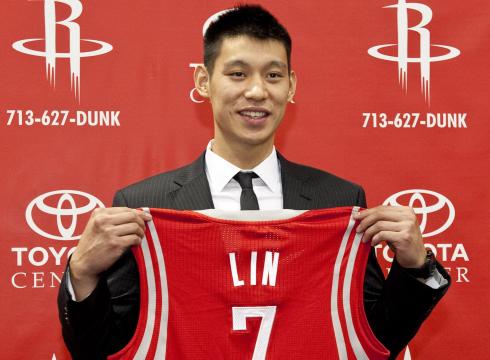 will come back to haunt the franchise but enough about that, I rather discuss Mr. Lin taking the game of professional basketball by the balls (pun clearly intended) and making his career the top priority like no other player with the exception of Lebron James two years ago with his "decision" has in quite some time. 
A Harvard grad, Jeremy Lin's early no dummy and figured like the rest of us that if he ends up being a fluke (he only played 26 games this past season) at least he'll have $25 million in the bank, not to mention all of the endorsements he's about to gobble up. There has been a bit of backlash because of these menuvers but I say the heck with that. How can you be mad at any man or woman for that matter that finds a way to make the most of their present situation? We can make overnight celebrities of reality television "stars" but can find a problem with a young man that has the physical ability (short-term or not, fluke or not)  to will his way on to a professional sports franchise in a major market and succeed.
Jeremy Lin is a great example of the American dream personified. He fought hard to make his dreams come true by working hard and most importantly working the system to his advantage. Recently Jeremy Lin made comments that he'd rather have stayed in New York but wanted to go somewhere he was wanted. I can only take that to mean wanted financially, and what's wrong with that? We all take jobs, leave jobs for new jobs, marry people, divorce people etc, etc because we feel like the grass is greener on the other side. This is exactly what Jeremy Lin did to put it in perspective.
Living in Atlanta I will have  only get to Jeremy Lin play live once a season and that will have to be enough. I wish him well on his new journey to a mid-sized market for to a team that has missed the playoffs the last couple of seasons and despite his signing probably won't make it during the 2012-13 season. I said he made a great personal decision, I didn't say it was a "basketball smart" decision. Harvard my ass.
Staff Writer; Donnell Suggs
One may also connect with this talented writer via twitter; Suggswriter  and also facebook; D. Suggs.