Ok Black Woman… Hate Yourself…
(ThyBlackMan.com) Every morning I wake up and wonder why I don't hate myself. It's been a feat these 25 years to not loathe what I see in the mirror especially when everything around me is telling me I'm not good enough the way I am.
I turn on Disney and the youngest stars are subliminally encouraging me to succumb to the Indian Remy. Flaunting, flossing and flinging hair that is not their's just like their less pigmented co-starts.
I flip through the pages of the leading women's magazine and in the back are not so buried ads to lighten dark spots or bleach my entire skin. Products to make my nappy natural more curly and textured, or to go all the way straight because that's the only way to be dark and lovely.
But that's just the tip of the iceberg. You don't have to leave the house for this mild hate and condescension. How a Black woman manages to make it through the day without breaking down in tears is a miracle. A trip to the grocery store may net you the groceries you need but you may walk out leaving your self esteem. The assault by smiling face after smiling face on the cover of every magazine telling you how to lose the baby weight, or just get slim and trim in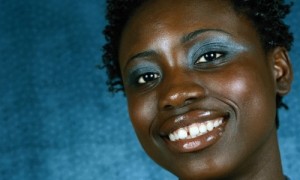 10 days; Kim K did it and you can too. Brighten your smile by whitening your teeth, step up your style with the latest fashions from Givenchy, and don't forget your shoes. Long heels. Red Bottoms. And don't forget every Black woman's gripe. The mess God gave her on top of her head.
No matter what we have we want something different. Too thin we want thickness. Too thick razor it thin. Too long we want short cuts. Won't grow pass the chin then sew 22 more inches in. We're taught from birth our hair is our crowning glory. Mega-sized barrettes on a tiny ponytail puff in the center of our head at two months old. Hard candy colored balls hanging on to swinging braids and twists by the time we hit the first day of school. Press and curls and first perms for picture day and Easter and by the time we hit our teens we've traded bows for braids, barrettes for a sock bun, and on special occasions a little yaki no one can touch, and cannot get wet under any circumstances ever. Matter of fact just don't move. And remember to sleep pretty with a satin scarp and your hands under your chin.
Our hair issues become our men's hair issues. They make a game of calling the weave of the celebrity on TV. Wondering why they can't be all up in your head. Dude, really, do you need to feel my scalp every day. Dang.
But the hair hang ups persist and are only superseded by perpetual singleness. You start dating at 16 and four years later you're told you're behind the curve because you haven't been looking for Mr. Forever but only for Mr. Fun right now. Hearing the marriage clock tick from an imaginary band you throw yourself into more women's magazines and men's mags too.
Squats check. Lunges check. Situps, crunches, planks. Check, check and check. You sweated out your hair, but refuse to go in water because it can't get wet. Worked hard on your body but left your mind behind, still susceptible to the perception that blondes have more fun, red heads are easy to bed and both these colors are better than the bland brown you were born with.
All of this taken with a stroll pass the magazine aisle in the grocery store. Oprah tells you to live your best life while running from her life's truth. Self is selfless. More is less, and Cosmo wants you to V H L your way through life because that's what your man likes.
As if you even have a man.
Black women it's 2012 and we're still getting bashed on for being single. And don't let us have a baby to boot but no husband, or male constant, just a baby-daddy then we're the scum of the Earth. The villain. The whole heart of what is wrong with Black America. We're scientifically the most unattractive people on the planet only good to "Booty Pop" and drop it to the floor girl, lower lower, but not good enough to be called wife. Or even woman. Just Bitch, cause we bad. And if we're being referred to as ladies it's only in the sage advice to Think Like a Man.
Black women we are the center of life and yet despised by our own and others at the same damn time. Criticized for walking around with our head high. Told to get over ourselves if we seem too proud. Told to change ourselves if we happen to appreciate our unique beauty. Told we hate ourselves if we change anything. And when measured next to any other nationality's beauty are lucky to come in a close second.
We are only our parts and the whole is never greater. Our hearts never beat louder, our love never bigger, our ass never rounder, our breasts never more perky, our eyes never enough hazel, our complexion not enough cafe au lait. We are surrounded by hate, yet embody love.
It's a magician's trick I tell ya. A flip of the mirror, a walk through the fun house, pulling a rabbit out of a hat or a quarter from behind the ear. That's the only way to explain existing in a world where on a daily basis messages bombard you with hate, disagreement, everything negative and never a-me-ment. It's a wonder being a Black woman and not hating myself, loathing the life I was given and longing to be something else.
Holly GoLightly, Genevieve Forbes, Scarlett O'Hara or Sarah Jane.
But I'm a Black woman. Far from being plain. Ignoring the hate. Disregarding the change myself advice. And with the souls and sensibilities of my sistas giving a big Eff you to magazine makers, music booty rump shakers, actors, and actresses, cat callers and hecklers.
You may hate me, and it's a wonder I don't hate myself.
But you can wonder on because I'm so over you and all the way into me.
Now how do you like them apples.
Staff Writer; Nikesha Leeper
To connect with this sister feel free to visit; Change Comes Slow.