Bobbi Kristina future starts now.
(ThyBlackMan.com) Bobbi Kristina Brown has attained a new level of fame since the untimely passing of her mother Whitney Houston. No longer her pop star mom's ever present sidekick, she is now a media sensation in her own right. Bobbi Kristina has blown minds by saying she wants to change her name to Kristina Houston and allegedly dating her informally adopted brother. And the public follows her every move.
Despite this shocking conduct, Bobbi Kristina told Oprah Winfrey that she wants to sing, dance and act like her parents — on the heels of the revelation that she is the sole heir to Houston's estate. Given the budding starlet's well-publicized encounters with fame's dark side (such as naughty drug pics and rumored stints in rehab), what can Bobbi do to ensure that she properly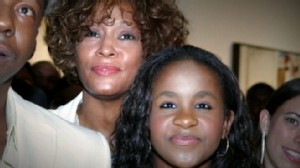 manages her inherited legacy?
Kevin Noble Maillard, associate professor of law at Syracuse University, thinks that Bobbi Kristina is in a good place financially because of the nature of her trust fund. Whitney stipulated that Bobbi will not receive a lump sum, giving her a chance to grow into her wealth responsibly.
"Bobbi Kristina's inheritance will not come all at once," Maillard told theGrio. "The will provides that the bulk of the estate will be held in trust for her, to be distributed in portions. Bobbi Kristina will receive payments at ages 21, 25, and 30, with each distribution increasing in value."
Bobbi Kristina can also gain access to additional funds for special occurrences like a wedding or a home purchase. "The trust structure is entirely appropriate for Bobbi Kristina," Maillard said. "Her trustees, who are also her relatives, will be able to place limits on her spending. If she needs treatment, they can dig into the trust principal in order to cover expenses. And if she is doing quite well, they can support and reward her within limits of the written trust.
Finish story over at; TheGrio – Bobbi Kristina Future, etc.
Also follow TheGrio on Twitter; http://Twitter.com/TheGrio.
and Facebook; http://www.facebook.com/theGrio.