Rihanna Billboard Queen no doubt…
(ThyBlackMan.com) When a then 17 year-old Rihanna scored a hit song with 2005's "Pon De Replay," no one could have predicted the course the young singer's career would take. Upon releasing her first number one single, 2006's "SOS" from the album A Girl Like Me, she wasn't regarded as much more than Beyoncé-lite, lacking both the vocal force and strong sense of showmanship that have defined the megastar's ascendancy to pop music icon.
But no matter how many critics she has had, and there have been plenty, Rihanna has remained steady and established herself as a force to be reckoned with in the world of contemporary popular music.
With her latest single "We Found Love" off the singer's forthcoming sixth studio album Talk That Talk, Rihanna has scored her 11th number one Billboard Hot 100 single, breaking a three-way tie between herself, Stevie Wonder, and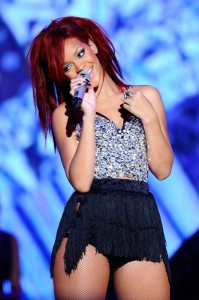 Whitney Houston and placing her behind only The Beatles (20), Mariah Carey (18), and Elvis Presley (17). Not only that, but she broke Madonna's record for fastest solo artist to achieve 20 Top 10 singles in their career by a whopping five months, managing to do so in only six years and four months.
Not Beyoncé. Not Britney Spears. Not Lady Gaga. Not Christina Aguilera. Not even the interminable Janet Jackson. It's the 23 year-old from Barbados that has surpassed all of her contemporaries and influences in the hit record making arena.
For some perspective, she hasn't sold as many records worldwide as Madonna or Jackson or even Aguilera. She has never been regarded as magnificent vocalist in the vein of Beyoncé or Houston. She isn't nearly as a theatrical a performer as Gaga. Artistically, she's much closer to the sort of disposable glam rock influenced pop style of Katy Perry. So just how then has she managed to forge not only a sustainable and flourishing career but one that is record setting and has launched her into the icon stratosphere?
Rihanna has played to her strengths. She hasn't attempted to wow anyone with her vocal range or elaborate stage show, because she doesn't have a great voice and she can't dance very well. 
Finish story over at; TheGrio – Rihanna Billboard, etc.
Also follow TheGrio on Twitter; http://Twitter.com/TheGrio.
and Facebook; http://www.facebook.com/theGrio.