Russell Simmons; Rush Card Pimping Blacks…
(ThyBlackMan.com) Russell Simmons' "RushCard" is being investigated by Florida officials for being predatory and misleading, along with four other prepaid debit cards. Companies offering prepaid debit cards are becoming quite common. Everyone from American Express to Wal-Mart, is offering a way for customers to have access to funds electronically without having an account at a credit union or bank.
What are prepaid debit cards?
Prepaid debit cards are made for people that want to be able to make electronic payments without having a checking account. Originally, they were used by people leery of using putting personal information online; lots of people used them to purchase things online. Some were specifically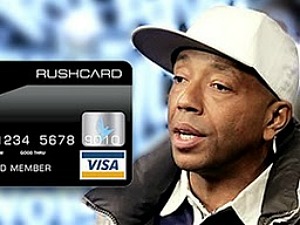 designed for teens; did you hear about the Kardashian "Kard"? More and more people are using them instead of using accounts at credit unions or banks.
The argument for
In 2009 the Federal Deposit Insurance Corporation (FDIC) conducted a study entitled "National Household Survey". They found that in California 15.8% of African-Americans did not have any accounts at a credit union or bank and 30.9% had an account but still used services from pawn shops, check cashing establishments, etc. to manage funds.
Some users think that prepaid debit cards are like credit cards, but you don't have to be approved to use them. Prepaid cards are available from retail stores. You choose the one you want to use, purchase it at the register, load the card with money, and begin using it. There are no minimum balance requirements and no overdraft fees. Sounds great, right?
The argument against
Prepaid companies promote the argument that using a prepaid card has fewer fees than using a debit card from a credit union or bank. Depending on how you manage your accounts that may or may not be true, but prepaid debit cards have quite a few fees of their own. There are usually fees to purchase the card, fees to use the card, and there may be fees to reload the card and check the balance on the card.
Some even promote the incorrect idea that using a pre-paid card will help you rebuild your credit scores. I have not heard of one prepaid debit card that reports to the three most common credit bureaus. Using these cards is like giving your money to a friend to hold for you, but you have to give them $10 at the beginning to hold it for you, $5 per month to hold it for you, and $2 every time you want to use some of your money to purchase something.
The verdict
If at all possible, do not use prepaid debit cards. If you have an account on ChexSystems and you're having a hard time opening an account at a financial institution, try opening an account at a local credit union. Many credit unions have special accounts specifically for people that getting back on their financial feet.
Prepaid cards take advantage of people that may be in a financial bind and may not have read, and understood, all the fees involved with using the card. Do not use them.
Written By Shay Olivarria
Official website; http://www.BiggerThanYourBlock.com