African American Community: Is Colin Kaepernick's NFL Plea Betrayal Or Brilliance?
(ThyBlackMan.com) Being a lover of sports since I was a toddler and later becoming a professional basketball player in the NBA, it is safe to say I've had my share of disappointing moments in sports over the years. I remember missing the final shot at the buzzer of the Edison Boys Basketball League in New Jersey when I was in sixth grade.  I must've cried into the wee hours of the morning, replaying how the ball rimmed out right as time expired.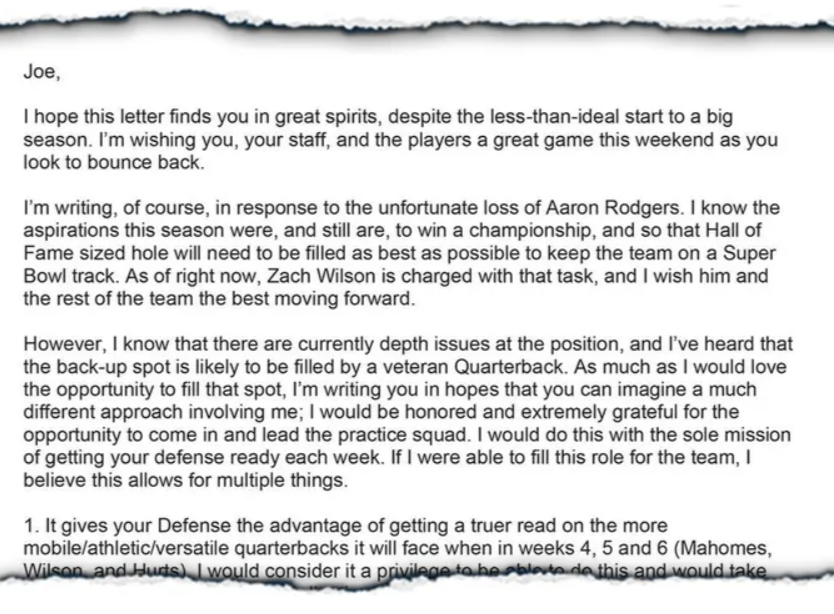 I remember when the Fab Five's Chris Webber called the timeout in the waning seconds of the 1993 NCAA Championship game vs. North Carolina.  I still remember the look on his face, the sheer embarrassment and disappointment.  I can still see the cameras focusing in on him as he sat there, head down, dejected. I still can't watch the replay of that game.
I remember losing to Shawnee High School by 50 points in the New Jersey Group IV state semifinals in 1995, a game that would prove to be the final high school basketball game of my career.  A game in which my team didn't score a basket in the entire third quarter.
As I sat in the stands with my 10-year-old son at his first NFL football game on a rainy Sunday afternoon at FedEx Field in Landover, Maryland, I just could not have predicted what I was going to see two days later. On Tuesday, I came across this headline:
"J. Cole shared Colin Kaepernick's letter to the Jets.  He's looking to join the Jets practice squad." 
"Letter to the Jets?" I thought to myself, "But Kap hasn't played in years! Practice squad?"
HOW COULD HE DO THIS TO US? AFTER ALL, WE HAD ALL BEEN THROUGH THIS PAIN WITH HIM, RIGHT?
Add this to the list of my most disappointing moments in sports.  For Kaepernick to sacrifice his career, to not stand for the National Anthem, but yet stand up for disenfranchised folks of color who have been violated, mauled, and sometimes murdered in America's streets by those selected to serve and protect them; to be a martyr and stand shoulder to shoulder with great legendary athletes turned activists such as Muhammad Ali, John Carlos, Tommie Smith, Jim Brown, Bill Russell, and others; and to then be begging for a "practice spot" with the New York Jets would make even the great Allen Iverson relive his famous quote: "We talking about practice? Not a game."
How could he do this to US? After all, we had all been through this pain with him, right?  We had all stood behind him and taken this journey with him, right? Some of us refused to watch NFL games until we saw Kap back on the sideline where he belonged.  Many of us engaged in conversations or, better yet, flat-out arguments in barbershops, on street corners, in alleys, and at backyard barbecues on how the NFL had now proven to us that it was the greatest plantation in sports. It was a league that would always try to beat you into submission, forcing you to show your respect for the shield, especially if you were a descendant of the Motherland.
But this had to be a publicity stunt, right?  By no means would Colin Kaepernick, after being shunned, blackballed, forced out of America's most popular sports league, now beg, resort to groveling and crawl back for a "chance" to run a damn practice squad after being out of the league for seven years. Not after having a Netflix series about his life.  Not after refusing to buckle, kneel, and cave in to the demands of the NFL, white America, and true "American patriots."
Publicity stunt or not, it will go down as one of the most embarrassing moments, not just for Kaepernick, but for those of us who walked a little taller cause he never succumbed.  For those of us who finally saw an athlete of this generation stand up and lay it all on the line while mirroring the purpose and gumption of athletes from past generations.  What the hell would Tupac say now?
"I'D RATHER DIE ON MY KNEES THAN LIVE LIKE A COWARD, THERE'S A GHETTO UP IN HEAVEN AND IT'S OURS, BLACK POWER!"

TUPAC
Maybe this is deeper than the surface thinkers among us can fathom.  Maybe J. Cole, being the intelligent wordsmith that he is, has already strategized with Kaepernick about how this will all play out.  Maybe one of the greatest rappers of this generation and Kaepernick, one of the most polarizing NFL players of our time, can see the forest for the trees.
Or maybe, just maybe, we should stop questioning Kaepernick's dedication to the cause.  Maybe we should stop questioning if he's lost all his dignity and start looking at ourselves in the mirror.  As I reflected on my own actions, I realized that I read Kaepernick's letter on my cell phone after spending a rainy NFL Sunday, in an NFL stadium draped in Washington Commanders gear — after already dropping my hard-earned money on overpriced tickets, hot dogs, and parking. All things I swore I'd boycott because of what they did to Kap back in 2016. But I just couldn't stop watching my NFL now, could I? My boycott lasted about three weeks.
How long did yours last?
Written by John Celestand